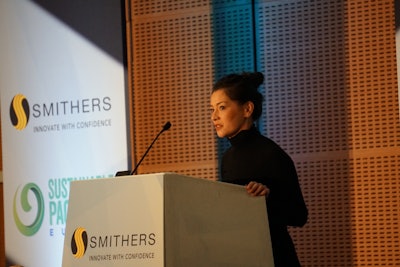 Lush Cosmetics is a values-based business whose goal is to "Create a cosmetics revolution and save the planet." That's according to Heather Deeth, Head of Buying for the company, who spoke at the Sustainability in Packaging Europe 2019 conference, held in Barcelona Nov. 13-14.
Among the company's commitments, Lush fights animal testing, believes in the freshest cosmetics using fresh fruits and vegetables, conducts ethical buying, has 100% vegetarian products, with 80% of its line also vegan, produces its products by hand, and employs Naked! package-free products.
The four pillars of Lush's sustainable packaging strategy are refuse, reduce, reuse, and recycle.
According to Deeth, refusing packaging means designing the packaging out of products. For example, it offers a shampoo bar that comprises a solid concentrated puck that the consumer uses by adding water, so it does not need to be packaged in a bottle. In addition, she said, the company has never offered bottled hand soaps, only bars. "Keeping it Naked has been a big thing for us," she says. "Between 30 percent and 50 percent of our products are Naked, depending on where they are being sold."
On the reduction side, Lush has worked very hard to "thin out all packaging," Deeth said, adding that when lightweighting, it's very important to test all of the packaging. She noted that the company has sought transparency into its supply chain as far back in the chain as possible in order to measure its carbon footprint. Another aspect of its reduce strategy is to design packaging with the end of life in mind to make it easy for the packaging to be recycled.
In terms of reuse, the company has created reusable packaging options for its customers such as:
· Knot-wraps, made from recycled PET bottles or organic Fairtrade cotton
· Cotton bags, including FT and organic cotton
· Aluminum tins that contain 40% recycled materials
As part of its recycle strategy, Lush is using 100% PCR materials for packaging such as its black pots. To encourage consumers to return the packaging for recycling, it has a program where they receive a free face mask when they bring back five pots. Shared Deeth, the return rate is 18%.
Another closed-loop system Lush has experimented with is the use of ocean plastics. "But it's a really challenging material to work with," said Deeth. "However, we know that we can use up to five percent of ocean plastics in our black pots and still maintain the integrity of the packaging."
"Taking strong action drives brand value" Deeth concluded. "Customers are driving the new environmental movement. Brands should be doing this whether customers are ready for it or not. We launch more than 400 products a year, and more and more of them are being launched Naked, whether consumers like it or not."