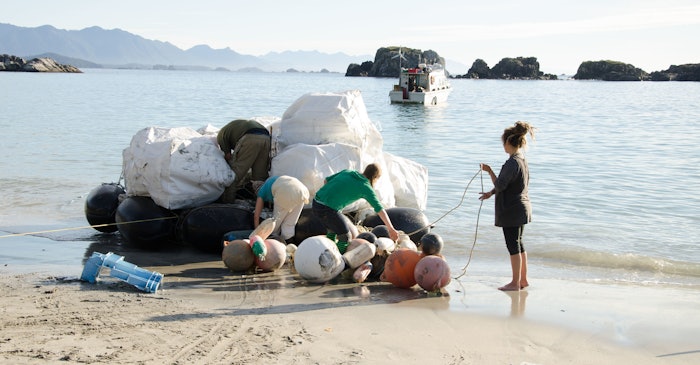 Urban Resource Group Inc., an affiliate of Canada Fibers Ltd., has announced successful collaborative trials with Lush Cosmetics involving recycling of ocean plastic into cosmetic containers. In late 2016, Lush delivered plastic collected from a six-month-long, volunteer-led ocean cleanup project to Urban Resource Group's plastics recycling facility in Toronto, Canada. Urban Resource Group took on the challenge of converting the assorted mix of plastic into a high-quality plastic pellet to use in a standard manufacturing setting.
To supply Urban Resource Group with the plastic material, Lush partnered with environmental non-profit Ocean Legacy Foundation to collect approximately 25 tonnes of plastic from the ocean and shorelines of Vancouver Island, Canada. This plastic was collected to explore simple objectives: Can ocean plastic be used within the current recycling infrastructure? Is there a viable outlet for this worldwide pollutant?
Urban Resource Group's staff scientists then tested the materials through its automated plastic recycling facility. After a series of trials, Urban Resource Group successfully created plastic pellets to meet Lush's specifications needed to make their 100% recycled cosmetic containers. Given the scale of the environmental problem and their ability to help, Urban Resource Group looks forward to testing new sources of ocean plastic and processing higher quantities in the coming year.
Says Gary Calicdan, Lush Ethical Buyer, "Urban Resource Group was willing to adjust their system to support this important environmental cause. Their technological abilities allowed them to transform broken-down pieces of ocean plastic into high-quality pellets that hit our standards. I'm very happy they accepted the ocean plastic—it's been great having them as a partner in this initiative."
Adds Mark Badger, a senior executive with Urban Resource Group and Canada Fibers Ltd., "We are keen to be pushing the frontiers of material recovery and recycling with leaders like Lush. Together, we are providing creative solutions to global problems."
Says Rachel Morier, Director of Sustainability at PAC, Packaging Consortium, "It is inspiring to see the good that can come from leaders teaming up to address a common challenge. It sets an example for industry where true collaboration can lead to new opportunities for sustainable packaging."
Urban Resource Group has been providing full-service recycling solutions for Lush for all material generated at manufacturing, warehousing, and logistical operations for the East Coast of North America.