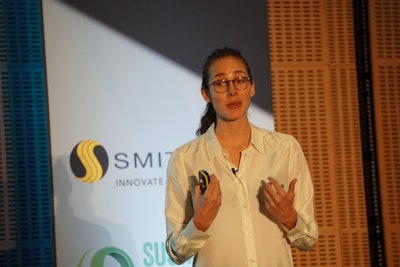 In a social and political environment where plastic packaging is an enemy to be eliminated at all costs, the Ellen MacArthur Foundation has a refreshing alternative to total banning of plastic: reuse. At the Sustainability in Packaging Europe 2019 conference held in Barcelona Nov. 13-14, Annette Lendal, Senior Research Analyst for the Ellen MacArthur Foundation, explained how converting 20% of plastic packaging into reuse models is a US$10 billion business opportunity that benefits customers and represents a crucial element in the quest to eliminate plastic waste and pollution.
"We want to present reuse as something 'cool,'" she told the 500-plus audience members. "Reuse is fundamentally different, it's an area of business opportunity. It's not just about eliminating all the things that make a business for us. It's about rethinking the way we make packaging."
Providing one successful example of reuse, Lendal talked about how Coca-Cola is utilizing the best of both worlds—the lightweight and consumer convenience advantages of PET bottles with a reusable model—for its beverages in Brazil. "Coca-Cola was using a refillable glass bottle, but as PET was introduced, it took global dominance. But what's so interesting in Brazil is that they are trying to merge the two designs. A universal bottle—PET but reusable. The paper label falls off during washing, and the bottle can be reused up to 30 times. This has resulted in an 83-percent higher consumption rate. When the consumer returns the bottle, they get a discount on their next purchase."
Another example she shared was about U.K. supermarket Waitrose, which has completely redesigned its stores by taking 200 products out of packaging, introducing dedicated refill areas for certain dry and liquid products. "It is a completely different way of selling products," she said adding that customers are willing to do things differently if they get something out of it. For example, without the packaging, Waitrose is able to sell products at a better price.
Briefly mentioned by Lendal, but one of the most ambitious examples of a program for reusable packaging, is TerraCycle's Loop program, which was announced in February 2019 and subsequently launched in Paris and New York City in May 2019. The first-of-its-kind shopping platform enables consumers to responsibly consume products in customized, brand-specific, durable packaging that is collected, cleaned, refilled, reused—and eventually, recycled. The platform comprises more than 300 products in reusable packaging from such heavy-hitters as Procter & Gamble, Nestlé, Unilever, PepsiCo, Mondelēz International, and Danone.
The six benefits of reuse outlined by Lindal included the following:
· Cuts costs—Compact products
· Adapt to individual needs—Customization
· Improve user experience—Superior design, as shown by TerraCycle's Loop circular retail system
· Build brand loyalty—Deposit and rewards
· Gather intelligence—Smart systems
· Optimize operations—Shared design
Currently 43 of the 400-plus global commitment signatories of the Ellen MacArthur New Plastics Economy Global Commitment are engaged in testing and piloting reuse business models across different markets and product types.
In a new publication from the foundation, "Reuse – Rethinking Packaging," the New Plastics Economy team provides a framework to understand reuse models by discussing the six major benefits of reuse and mapping 69 reuse examples. Based on an evaluation of more than 100 initiatives and interviews with over 50 experts, it aims to inspire and help structure thinking. The publication provides a basic description of how different reuse models work as well as typical implementation challenges.
"Reuse is happening," said Lindal. "The solutions are out there to be inspired by."