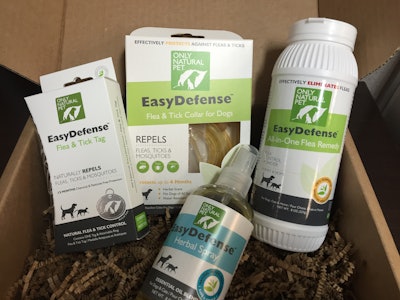 Only Natural Pet is an online and brick-and-mortar company that specializes—as its name implies—in natural pet supplies. Among them, the Boulder, CO, company sells more than 2,000 pet food, vitamin and supplement, grooming and cleaning, pet gear and toy, and other products.
As Nathan Casey, Warehouse Manager for the company, explains, sustainability is part of the culture at Only Natural Pet. "We are committed to protecting our planet for pets and people alike," he says. This commitment not only extends to its products, but to its shipping materials as well.
In mid-2015, Only Natural Pet began working with EcoEnclose, a supplier of earth-friendly shipping supplies, including compostable, biodegradable, and recycled materials. Casey explains that Only Natural Pet felt EcoEnclose could offer a much greener alternative to the packaging the company was currently using for its 200,000 annual shipments. "And the cost was competitive," he adds.
Only Natural Pet now uses products from EcoEnclose that include 100% recycled mailers, 100% recycled-content, custom-sized boxes, and recycled, corrugated-bubble void-fill material.
Used for any product that can be safely shipped within them, the 100% recycled mailers are made from polyethylene and are just as strong as non-recycled mailers, Casey confirms. The corrugated shippers have been custom-sized to fit Only Natural Pet's flea product kits and are made from 95% post-consumer waste and 5% post-industrial waste. The shippers are also printed in one color with the company's logo.
As for the void-fill, it is designed as a green alternative to traditional bubble wrap and foam peanuts and is made from of 100% recycled cardboard. As with the boxes, the void-fill is 100% recyclable and biodegradable. Only Natural Pet also uses biodegradable packing peanuts made from cornstarch sourced from another supplier.
Says Casey, "We believe our customers share our values and are excited by our efforts to reduce our impact on the planet."