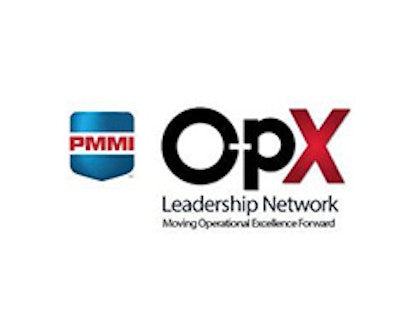 The OpX Leadership Network, convened by PMMI, The Association for Packaging and Processing Technologies, is pleased to announce submissions for the third annual Sustainability Excellence in Manufacturing Awards are now open. The Program Submission Form and Project Submission Form are due by Dec. 15, 2016.
The peer-reviewed awards recognize facilities for projects or programs that improve sustainability efforts in food, beverage or consumer product manufacturing operations, focusing on pollution prevention, compliance assurance and environmental protection.
"We look forward to receiving these nominations in order to recognize and honor those companies that go above and beyond to pursue their sustainable manufacturing goals and at the same time improve performance," said Steve Schlegel, co-managing director, OpX Leadership Network.
Awards will be given in project and program categories including reduction in water and energy use, waste conservation, pollution prevention and packaging reductions. The winning manufacturing plants will be recognized during the Sustainability Excellence in Manufacturing Awards during the inaugural ProFood Tech, set for April 4–6, 2017 at McCormick Place, Chicago.
The OpX Leadership Network was founded by PMMI in 2011 to ensure consumer packaged goods companies and original equipment manufacturers are well-connected and well-prepared to solve common operational challenges, make smarter decisions and achieve operational excellence.
Case study videos and award submissions highlighting the winning solutions will be posted to the OpX Leadership Network website.
To learn more about the OpX Leadership Network visit OpXLeadershipNetwork.org.