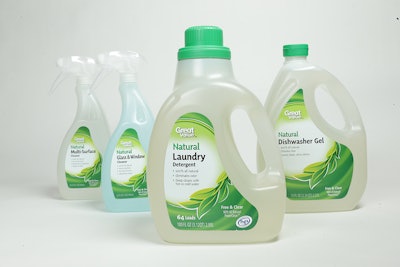 Walmart has introduced a four-product line of all-natural household cleaning products under its private-label Great Value brand. The line, Great Value Naturals, was introduced in late 2013 in 2,000 Walmart stores across the U.S., and includes a liquid laundry detergent, a multi-surface cleaner, a glass and window cleaner, and an automatic dishwasher gel, packaged in recyclable materials.
"The launch of Great Value Naturals is an important step in making green cleaning habits an affordable option for millions of consumers," says Alberto Dominguez, Walmart Vice President and Divisional Merchandise Manager. "Many consumers have the perception that all-natural cleaners are more expensive and don't work as well as traditional cleaning products. Great Value Naturals addresses those concerns by combining affordability, performance, and care for the environment."
The products are made from plant-based, all-natural Evolve cleaning technology from Agaia, Inc. and are 100-percent chemical- and toxin-free, biodegradable, and non-allergenic. The technology is said to effectively capture and break down soils, grease, grime, and odor-causing bacteria without leaving harmful residues or irritants behind on the skin, surfaces, or the environment.
"As the first green technology to match the potency of chemical cleaners, products with Evolve-based technology deliver a level of clean that consumers often notice after a single use," says Benjamin Shell, CEO of Agaia. "It's no longer necessary to sacrifice the familiar strength of traditional cleaners to have a toxic-free environment at home. With products made from Evolve-based technology, consumers get the best of both worlds—superior cleaning and all-natural safety—for the first time."
When it came to packaging for the new line, Chris Schraeder, Senior Manger of Sustainability Communications for Walmart, says there was no other conversation beyond the use of eco-friendly packaging. "From the first discussions, it was clear that formula and packaging decisions would be guided by Walmart's sustainability initiatives."
Among the package components used by the new line are:
• Custom-made, high-density polyethylene bottles made from 25% recycled material, in 32-, 75-, and 100-oz sizes, from a proprietary supplier.
• Stock trigger sprayers, from a proprietary supplier, made from 100% polyolefin that contain no metal parts. According to Schraeder, "This makes them completely recyclable and reduces the breakdown effort by the recycling plant."
• PET labels, which Schraeder says in the future will be replaced by heat-transfer labels that will bond with the bottles and be recycled along with them.
Making the packaging even more recycling-friendly, Shraeder adds, both the bottles and sprayers have a natural, translucent color with no tints, eliminating the need for separation during recycling.
Companies in this article