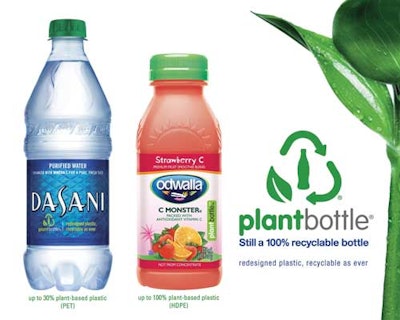 The single-serve Odwalla packages are made from up to 100% plant-based high-density polyethylene plastic, while PET bottles for Dasani are made with up to 30% plant-based materials.
According to Coca-Cola, in 2010, more than 2.5 billion PlantBottle packages were available across nine countries. For 2011, that number is expected to double to more than 5 billion in more than 15 countries.
"It's our goal to make traditional plastic bottles a thing of the past and ensure that every beverage we produce is available in 100-percent plant-based, fully recyclable packaging," says Scott Vitters, general manager, PlantBottle Packaging Platform, The Coca-Cola Company. "The national launch of Dasani PlantBottle packaging represents an important step toward reducing our carbon footprint, and the up to 100 percent plant-based, recyclable packaging used for Odwalla is the first of its kind in the beverage industry."
The PlantBottle packaging used for Odwalla is made of HDPE plastic created using only ethylene derived from 100-percent renewable sugarcane-based ethanol supplied by Braskem in Brazil. Odwalla is the first nationally distributed beverage brand to transition its packaging to fully recyclable, HDPE plastic made from 100% plant-based materials.
"The launch of PlantBottle packaging for Odwalla represents a significant step in our brand's ongoing efforts to protect our planet," says Odwalla president Alison Lewis. "Since its inception, Odwalla has maintained a very simple vision: make great juice, do good things for the community, and build a business with a heart."
Currently, PlantBottle packaging is made using sugarcane ethanol from Brazil, the only source widely recognized globally for its unique environmental and social performance, according to Coca-Cola. Brazilian sugarcane is primarily rain-fed and industrially grown on abundant, arable land using organic fertilizers. The plantations from which PlantBottle materials are sourced are located far away from Amazon rain forests, and their impact on biodiversity is reduced due to advanced farming practices and sound public policy.
Notes Coca-Cola, unlike other plant-based plastics, PlantBottle packaging is entirely recyclable and can be processed through existing systems. This ensures PlantBottle packaging can be repeatedly used, recycled, and reused. In addition, there are no differences in shelf life, weight, composition, or appearance between traditional PET plastic bottles and PlantBottle plastic bottles.
To read an exclusive interview with Scott Vitters on this recent announcement, go to greenerpackage.com/node/3737.

Companies in this article