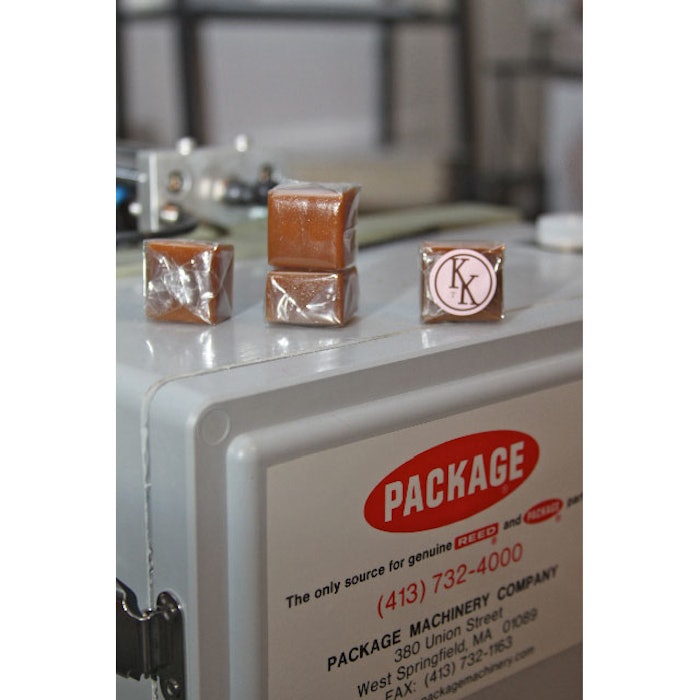 According to the firm's owner, Kelly Martin, plans for growth were put on hold largely because manual wrapping was a big-time bottleneck.
"With two people working we were lucky to wrap 150 pieces an hour," says Martin. "Now with this wrapping machine installed, two people can do up to 800 pieces an hour, including the hand-applied sticker."
The semiautomatic tabletop machine Martin describes is the Model TTDF Mini from Package Machinery Co. The operator loads a square of caramel into the well of a sliding fixture and then covers the caramel with a pre-cut piece of wrapping material. Once the fixture is locked in place, the caramel is automatically pushed through a die box, wrapped, and heat sealed. The wrapped product then exits down a chute for placement by hand into a carton.
"We are really happy to have found a way past that manual wrapping bottleneck," says Martin. "We looked at rebuilt or used equipment, but that didn't seem like the way to go. And we didn't want equipment made in China. So when our research led us to this equipment, we knew it was what we were looking for. A few modifications gave us the specific fold of material we were looking for."
Kelly's Karamels are sold for about a dollar per square via the Internet and in shops in the firm's home state of Michigan. Range of distribution is likely to increase now due to one other change that took place when the wrapping machine arrived. A waxed paper was replaced with a cellophane material supplied by Innovia.
"The waxed paper didn't give us more than three weeks' shelf life," says Martin. "Now we're at three or four months." Also being investigated, notes Martin, are compostable films from Innovia.
Companies in this article