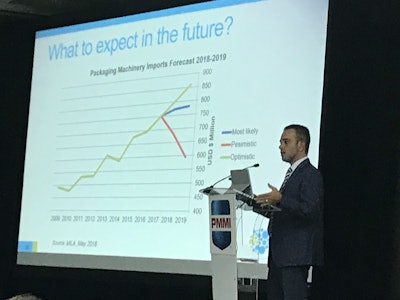 Packaging machinery imports into Mexico totaled $751 million in 2017 growing for the fourth consecutive year and by nearly eight percent from 2016,according to a Mexican Packaging Machinery Market presentation from Louis Domenech, Managing Director, Market Intelligence Latin America S.C. (MILA). Nearly 100 members of PMMI, The Association for Packaging and Processing Technologies, registered for the event which highlighted PMMI's upcoming 2018 Packaging and Processing in Mexico report. The seminar kicked off day two of EXPO PACK México (Expo Santa Fe Mexico, Mexico City, June 5-8).
With a cautious eye towards the potential volatility surrounding Mexico's upcoming July elections, Domenech believes the growth will continue, offering a ripe opportunity for the packaging and processing industry. The beverage industry continues to set the pace with investments in new breweries making beer the largest subsector. Heineken, AB InBev and Constellations Brands alone project 15 million hectoliters in new capacity in 2018.
"Few companies are stopping or postponing investments due to the elections," said Domenech. "Most are continuing with packaging machinery investments and have [2018] budgets similar to 2017."
Retailers, for example, continue to invest in new stores, which is a positive sign that vendors do not fear a change in the current market. Mexico's demographics, employment growth, increasing middle class and the consumption habits of millennials also point to continued growth in important packaging machinery demand sectors.
Subsectors such as beer, snacks, ready-to-eat meals, healthy beverages, vaccines, and personal care products are all growing faster than the economy and driving packaging machinery demand.
End user consumer panels moderated by PMMI Vice President of Market Development Jorge Izquierdo followed Domenech's report and rounded out the session.
The first, Key Challenges in Packaging and Processing Operations, welcomed Sergio Bojalil, packaging development manager, The Hershey Company, Charlotte Oudin, director, Barilla Mexico SA de CV and Gerardo Perez, engineering and projects manager, Sabormex, SA de CV. The three offered three distinct perspectives on the supplier and customer relationship in Mexico with Oudin representing management, Bojalil speaking for packaging design and Perez as the voice for operations on the plant floor.
The most significant issues confounding them centered on the consumer want for sustainability and healthy, more clean labeled food.
"Even with chocolate and candy, customers want to eat healthier, so they seek smaller portions sizes, so they don't feel as guilty," said Bojalil.
A second panel touched on similar topics of discussion between the OEMs in the audience and CPGs.
The 32nd EXPO PACK México continues through Friday. Visit expopack.com for more information.