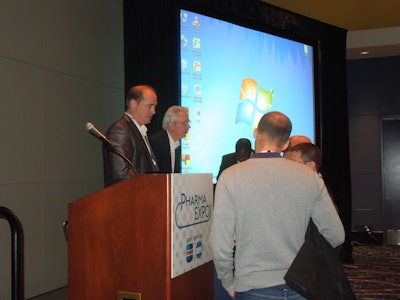 If your company needs to produce small volumes, or make custom containers, or keep tooling costs under control, it might want to consider additive manufacturing, sometimes referred to as 3D printing (3DP), or rapid prototyping.
Although the technology has existed for decades, lower equipment costs and media attention to home printers that can print chocolate or jewelry have helped to generate new interest in 3DP. At the other end of the spectrum, human genome advances and medical marvels such as 3D-printed skin and organs make it easy to get swept away by its treatment potential. Somewhere in the middle of those two application ranges, 3DP offers real-world benefits for manufacturing and packaging applications.
Think sample packs, small-volume runs, replacement parts for equipment, and alternatives to producing molds and tooling that can allow multiple changes and adjustments made at much more reasonable prices before buying tooling for commercial production.
These points of discussion were raised during the Nov. 3 presentation at Pharma EXPO Intl., "Application in Additive Manufacturing/3D Printing." The 90-minute presentation was led by Carl Dekker, President, Met-L-Flo, Inc., with presentations by Sheku Kamara, Director, Rapid Prototyping Consortium, Milwaukee School of Engineering, and Don Smith, Manager Engineering Technology Resources at Baxter Healthcare Corp.
Pharma EXPO, co-located with PACK EXPO International Nov. 2-5 in Chicago, is a joint venture of PMMI, The Association for Packaging and Processing Technologies, and the International Society for Pharmaceutical Engineering (ISPE).
Smith offered two recent examples of how Baxter has employed 3DP in secondary packaging applications. One was to hold glass vials that present safety and security issues when shipping. Smith said the company brought in vendors to work with Baxter personnel and came up with more than a dozen ideas, using plastic, glass, and corrugated materials. He said the company went through several design iterations and included a living hinge on the plastic device it selected. "For these prototypes, additive manufacturing works well and allows us to make deep-pocketed parts that are then vacuum-formed for wider production."
Another prototype Baxter developed via 3DP was for holding syringes in place so that a plunger device would not move. Parts were made quickly and within a month a tool was ordered for production.
Broader perspectives
Dekker noted that medical devices, such as MRI machines and CT scanners, represent equipment that would be good candidates for additive manufacturing, due in part to their apparent lower-volume production needs.
Dekker said that bottle applications would also work well for 3DP since multiple sizes, shapes, and colors could be made in limited quantities. Same for mold halves.
And while more materials—and more robust materials—are becoming available for additive manufacturing, Dekker noted some drawbacks in the technology, including variances in part quality—often challenges due to fragility issues, and differences in printing equipment. Additional costs during production can also detract from potential benefits.
Kamara pointed out two broad classes of 3DP machinery. One, he noted, was concept-molding equipment that offices might employ that require minor technical knowledge and cost under $300,000 in general. Mainframe machinery, meanwhile, typically carries price tags north of $500,000 and tend to require laboratory environments to run.
The MSOE director offered a primer on the seven different 3DP technologies, listing each of their advantages, disadvantages, uses, what materials they work best with, etc. He said users must know upfront what they want from 3D-printed parts—low costs, high throughput, softness/hardness characteristics, etc.—before determining which of the seven printer types would be most effective in meeting that company's needs.
Q&A session takeaways
During the session, one attendee noted that his company makes more than 1,300 different bottle SKUs, with more introduced virtually on a weekly basis. His immediate question was, "Why not go to Walmart and buy a 3D printer to develop samples?"
That may work well, replied one of the speakers, but be cautious because part quality issues, testing, and meeting regulations might make it more economically effective to invest in a higher-quality unit.
Smith was bullish on the technology, however, noting that it helps in creating designs upfront, reducing costs and the design time cycles.
Dekker also suggested 3DP could reduce the amount of scrap generated during prototype development and even help improve line safety, both for workers and for parts. He cited an example of a facility he visited in which tubes were being placed on a metal rack, occasionally causing tube damage. A 3D-printed rack made of plastic, he noted, could alleviate the damage issue.