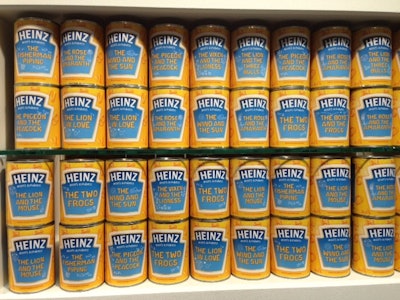 A press briefing at the HP booth was useful not only because of the new offerings shown but also because a number of innovative applications of digital printing were on display.
In the new offerings category:
- The HP Scitex 15000 Corrugated Press for production of corrugated displays and short-run packaging
- An agreement with Comexi Group to develop a dedicated lamination solution optimized for the HP Indigo 20000 Digital Press.
Now for the applications. One was a pre-commercial concept from Heinz that was especially clever. It involves a range of alphabet soups aimed at children. Why label every can with the same label when the quick-change flexibility inherent in digital printing makes it possible to print labels carrying a wide variety of Aesop's fables on the labels and then call the line "Aesop's Alphabetti?" It's a way of using visual and brand iconography to playfully offer a limitless edition of stories at dinnertime. Printed on a HP Indigo WS6000 press, the labels have the title of the fable on the front and the fable itself on the back.
Another concept shown at the HP booth involved a unique Scottish carbonated soft drink from A.G. Barr plc called IRN BRU. Thanks to the digital printing, labels for 2-L PET bottles will be individualized to represent all 51 unique Tartan patterns of the Scottish clans. This promotion will be hitting store shelves this July as part of the celebration of Scotland's Commonwealth Games.
At a lunch-time press conference held by PMMI, that organization's president Chuck Yuska proudly announced that 2013 was a record setting year in square footage, number of exhibitors, and number of visitors at all of the shows PMMI produced. He also reminded the members of the packaging press in attendance that Pack Expo International in Chicago November 2-5 would have two exciting new components: Pharma Expo and the AIPIA (Active & Intelligent Packaging Industry Association) Congress. As for trends in the U.S., Yuska noted that
- With U.S. dependency on oil dropping for the eighth consecutive year, U.S. manufacturing is looking as healthy as it's been in a long time; industrial production is up and exports, too
- as retail-ready packaging grows, it's shaping the packaging machinery purchasing decisions of end users
- use of robots is on the rise, and trending in the robotics arena are such things as vision sensors, increasingly nimble end-of-arm tooling, integrated controls, sanitary design, greater speeds, and increased lifting capabilities
Speaking of robots, Gerhard Schubert GmbH showed an extremely flexible four-robot cartoning system whose end-of-arm tooling is removed and stored while new tooling is inserted—all automatically with no human intervention in a matter of about five minutes. This machine is on its way to the customer for whom it was designed. Perhaps even more intriguing was a prototype TLM system that requires no controls cabinet. It was developed jointly by Schubert and Bosch Rexroth, whose Indradrive Mi drives play a key role in actuation on the machine. Also demonstrated on this machine was a 3D scanner positioned over the conveyor belt that determines the three-dimensional data of the products to be handled. This TLM Vision System can determine the volume and, if the product density is consistent, the weight of each product using information from the 3D scanner. The technology makes it possible, for example, for a sandwich cookie with no top part to be identified and rejected.
Companies in this article