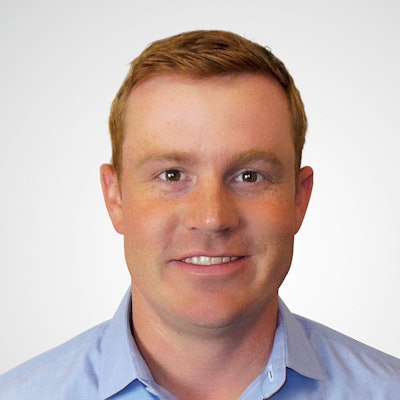 Sustainability, e-commerce, and robotics/automation as a means to stand-in for hard-to-find labor, could be found everywhere on the show floor.
But these trends are increasingly overlapping. I can't so easily distinguish a sustainability-minded product launch from an e-commerce or fulfillment center-aimed piece of tech. They're often one in the same these days, pulling double duty, or at least display attributes of both. Case in point: curbside recyclable padded paper mailers as part of on-demand semi-automatic bagger solutions serve two masters in sustainability and e-comm. Entries from PAC Machinery via its Fiber Flex pre-opened mailer and Rollerbag R-3200 automatic bagger, Pregis and its Sharp Max-Pro 18 bagger with Evertec padded paper mailers, and Sealed Air Autobag machines with paper mailers made from post-consumer fiber, are three examples I saw.
Speaking of paper, I've found myself spilling quite a bit of ink in recent months on a transition from plastic to paper(board) packaging wherever the application—and price point—would allow it. But flexible film materials suppliers and converters are among those exhibitors that have made the greatest strides since we saw them last in Chicago. There are too many to name, but I saw advancements from the likes of ProAmpac, Amcor Flexibles, Berry Global, Clysar, Pregis, and others, all demonstrating new, more sustainable entries into the films and flexible packaging categories. With a few notable exceptions around compostability, bio-based plastics, and ocean-bound plastics, the lion's share of these advancements came within one (or both) of two categories. The transition from multilayer coextrusions or laminations to monomaterial structures was one key area of advance, with the goal of achieving recycle-ready status or even true recyclability through How2Recycle. The other was the usage of higher and higher PCR contents as more and more feed stock slowly but surely comes available.
Four years ago, advanced (then typically called chemical) recycling was a hopeful but distant silver bullet/magic wand technology. Yet evidence of its progress was more apparent than ever at PACK EXPO International. Once again blending the lines between different parallel trends, UPM Raflatac was demonstrating a nifty application that it says is "the world's first certified label material to fight ocean-bound plastic pollution" (plastic materials certified to have been recovered and recycled from rivers or coasts prior to their transition to ocean microplastics). These materials tend to be highly degraded and difficult to recycle, at least by traditional mechanical methods. But advanced recycling from category specialist SABIC was used in this application, resulting in either 85% or 90% (depending on transparent vs. opaque) ISCC PLUS-certified chemically recycled material on mass balance approach. Another pet-food pouch collaboration between Printpack, ExxonMobil, and Pregis was made using advanced recycled materials, exemplifying continued progress in this category.
Switching from materials to automation, independent movers or pucks using linear-servos, usually on looping, track-style systems, could be found both in their supplier's booths and on equipment in several OEM's booths. One all-new entry in this category (not exactly in the continuous track system mold, but related) was Syntegon's splashy new IDH (Independent Direct Handling) system. From an infeed, it gently collates and tray-packs variably placed products like biscuits or cookies, either on-edge in a slug or stacked in-line, via independent, parallel pickers with vacuum EoaTs. It's more easily viewed in 10 seconds than described and contemplated in text, so check it out at pwgo.to/7751.
And even more overlapping trends could be found at the intersection of e-commerce and workforce. Pick-and-place robots with vision systems capable of handling high-mix, variable product environments, previously the realm of human labor, were the name of the game here. Targeting e-commerce and fulfillment in pharma, electronics, and CPG markets, among others, one example from ABB and Banner, and Osaro, Cognex, and Fanuc were decidedly on-trend(s).

Companies in this article
Videos from PAC Machinery