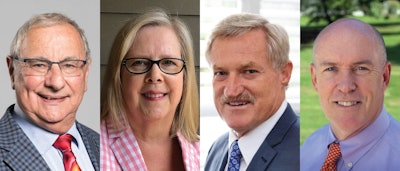 The Packaging & Processing Hall of Fame will induct four new members to the 47th class this fall in Chicago during PACK EXPO International. Since 1971, the Hall of Fame has recognized career packaging and processing professionals for their significant contributions to the industry and education. This year's honorees are Jean-Jacques Graffin, Rebecca Oesterle, Pierre Pienaar, and E. Jeffrey Rhodehamel.
Click on the inductees' names below for a full profile on each of their Hall of Fame careers.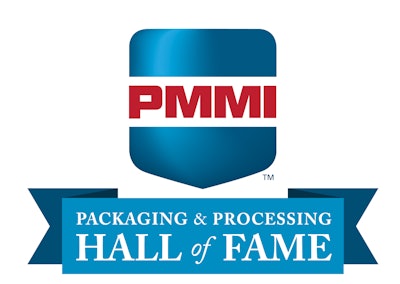 Organized by PMMI, the Association for Packaging and Processing Professionals, the Hall of Fame welcomes new members every other year. Members are chosen by the Hall of Fame Commission, which selects inductees from individuals who have been nominated. The Commission includes a cross-section of industry professionals, including suppliers, end users and journalists.
Joe Angel, president of PMMI Media Group and Hall of Fame Commission member shares his thoughts, "This years' inductees are an exceptional group. Their knowledge, vision and lifelong dedication are an inspiration to our entire industry."
"We look forward to welcoming these four professionals to the Hall of Fame, Class of 2022," adds Jim Pittas, president and CEO, PMMI. "It's with gratitude and appreciation that we acknowledge their contributions, which have enriched the packaging and processing industry worldwide.
Fourteen individuals comprise the Packaging & Processing Hall of Fame Commission.
Joe Angel, President, PMMI Media Group, Publisher, Packaging World
Kim Carswell, Consultant, formerly with Target
Kay Cooksey, PhD, Professor and Cryovac Endowed Chair, Department of Food, Nutrition and Packaging Sciences, Clemson University
James Downham, President & CEO, PAC Global
Suzanne Fisher, CPP, Fisher Packaging, LLC
Mary Gregg, President, Springboard Packaging Solutions, Inc
Glen Long, Senior Vice President, PMMI, The Association for Packaging and Processing Technologies
James Perry, Director, Package Innovation + Sustainability, Abbott Nutrition
Bill Rice, Principal, Packaging Technology, SC Johnson & Son, Inc.
Michael Richmond, PhD, PTIS, LLC Global Management & Packaging Consultants
Mark Shaye, Vice President of Engineering, Ken's Foods, Inc.
Thomas L. Schneider, CPP, Past Chairman, Institute of Packaging Professionals, Past President, World Packaging Organization
David S. Smith, PhD, R&D Executive, Consultant, David S. Smith Associates
Nancy Wilson, CEO, Morrison Container Handling Solutions
The 2022 Packaging & Processing Hall of Fame ceremony will take place on Monday, October 24 at PACK EXPO International. Additional information, as well as PACK EXPO International registration and event details, can be found at PACK EXPO International.
About PMMI Media Group
PMMI Media Group, a division of PMMI, is a market-leading B2B media company that produces information for packaging, processing and automation professionals, bringing together solution providers and end-users and facilitating connectivity throughout the supply chain. Its world-class media brands — Packaging World, Automation World, Healthcare Packaging, Contract Manufacturing + Packaging, OEM, ProFood World and Mundo PMMI — are proven leaders in covering this diverse and dynamic marketplace, and its digital products incorporate leading-edge media technologies to deliver informed, actionable business intelligence to the industry.
About PMMI
PMMI, The Association for Packaging and Processing Technologies, represents the voice of more than 950 North American manufacturers and suppliers of equipment, components and materials as well as providers of related equipment and services to the packaging and processing industry. We work to advance a variety of industries by connecting consumer goods companies with manufacturing solutions through the world-class PACK EXPO portfolio of trade shows, leading trade media and a wide range of resources to empower our members. The PACK EXPO trade shows unite the world of processing and packaging to advance the industries they serve: PACK EXPO International, PACK EXPO Las Vegas, PACK EXPO East, EXPO PACK México, and EXPO PACK Guadalajara.
Learn more at pmmi.org and packexpo.com and pmmimediagroup.com.