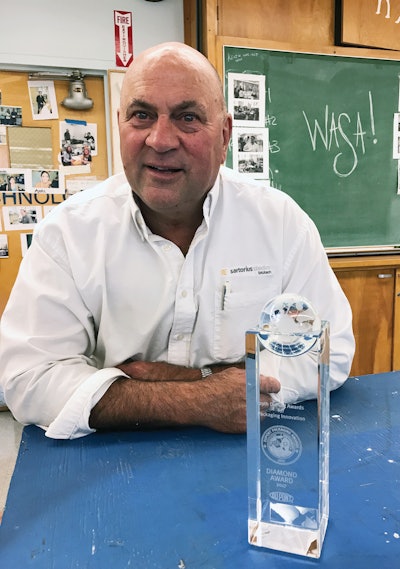 Just as we continue to see in today's youth, a barely college-aged Fritz Yambrach, Ph.D., had no idea packaging was an option, much less that he was attending a school with a world-class packaging program, when he was admitted to Michigan State.
It was a tennis buddy—Yambrach was a competitive junior tennis player, more on that later—who lobbed him this tip: "Take a look at the packaging school." The advice led him to take an introductory course that would serve as the gateway to his career in the industry.
"It seemed to me that it was interesting, there was a reason for everything, and it was incredibly necessary," he says of his experience in that course.
Degree in hand, Yambrach entered the real world for years before returning to the academic life. A Michigan kid, it was fitting that his first packaging job was at Mopar parts, then part of Chrysler, on Eight Mile Road in Detroit. Next up was a gig as a packaging engineer at ICI Pharmaceuticals in Wilmington, Del., one of the largest petrochemical companies in the world that would eventually be folded into McNeil J&J. He then spent time as a packaging engineer at Baxter Labs, a medical device specialist in Chicago, and followed that up with a stint in Rochester, N.Y., as a tennis pro.
Wait, what? A tennis pro?
Let me explain. In the intervening years, Yambrach met and married a globe-trotting academic in pursuit of a doctorate in toxicology and pharmacology, so he followed her as she moved from school to school. When his wife, Caroline English, followed her major professor to the University of Rochester, he left Baxter and made the move with her. It just so happened that it was down the street from another one of the world's leading packaging institutions, RIT.
"The first year I was in Rochester, I was a tennis pro at one of the local clubs," he says. "At some point I happened to walk in the door at RIT and met Dave Olsson, who hired me as a faculty member. There, I helped develop maybe five or six different courses at RIT over 23 years."
While on faculty at RIT, Yambrach completed a Ph.D. of his own at nearby University of Buffalo. His dissertation was the first to specifically identify packaging suppliers as geographic sources of competitive advantage driving innovation in the medical device industry. This specialization of skill sets in external support areas create a milieu of shared learning, labor, and technologies, which benefits each firm. This is the main reason medical device firms have agglomerated in specific regions in the U.S. and the EU.
---
PACK EXPO Connects–November 9-13. Now more than ever, packaging and processing professionals need solutions for a rapidly changing world, and the power of the PACK EXPO brand delivers the decision makers you need to reach. Attendee registration is open now.
---
A current example of this type of agglomeration is in Silicon Valley, where medical device firms have located to secure IT expertise to create products that have therapeutic benefits but now record and transmit data in real time.
By 2007, Yambrach had made his way to Silicon Valley, too. He did so after being asked to develop a packaging program at San Jose State to help feed that newfound local packaging need with educated talent. SJSU Packaging program director Herb Schueneman sought him out based on several recommendations along the lines of, "If you need a new program, call Fritz. He'll do it." His RIT reputation had preceded him.
"I think part of it is because I like teaching," Yambrach says. "I'm good at it, and I realized that the student's career is very important, almost more important than my career at that point. Teachers are blessed with the ability to improve people's lives. I've seen that positive change for my students, and that's why I teach and why I've taught so long. I decided to take the opportunity at SJSU because, as I asked myself, 'how often are you given the opportunity to actually build something in the way that you want it to be built?'"
Yambrach says that while all packaging programs, at least at the bachelor's level, are somewhat similar, there are different slants and tacks to take. One element of SJSU's packaging program has been Yambrach's creation of a learning community, where students in the program would take classes together, be routed on course tracks together, and hence would study, eat lunch, socialize, and learn with one another.
"What they did is they became a single unit community at the university, one that works together, and it's worked exceedingly well. The students support each other," he says. "Right now, after 13 years, I have a number of students who are out working that are now coming back and they're hiring our kids, they're giving talks, and they're supporting the program, because they're part of the culture."
This collaborative culture serves students well in their careers on multiple levels. First, it accurately reflects the collaborative nature of packaging itself, and prepares students for accepting inputs from a number of differently skilled stakeholders on any given project. Packaging is multidisciplinary in that it's composed of material science, engineering, marketing, and logistics, to name a few.
Also, in a small cohort of interdependent folks that number from 15 to 25, kids can't hide. Packaging students are expected to be active in their learning. Accountability is key in this program, just as it will be in the real world.
"There's no reason to make the students feel competitive," Yambrach says. "There are more than enough opportunities in packaging for everyone."
He knows that dynamic well. He's been capitalizing previously unseen, even previously non-existent opportunities in packaging for an entire career. Case-in-point: He started a non-profit firm which designed a water vest for easier carrying of potable water in impoverished areas (www.Fritz WaterVest.com). Expect that kind of innovation to continue—except, of course, during his weekly court time at the tennis club.
Read profiles of the other three inductees into the Packaging and Processing Hall of Fame, Class of 2020 by clicking on their names below: