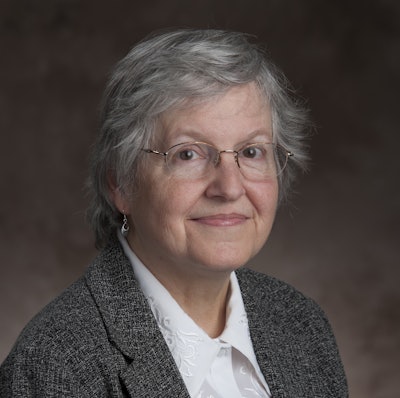 In her first professorial role in engineering at the University of Iowa, she happened to be at her desk to take a call from her doctoral alma mater, Michigan State University, about an open packaging faculty position. Her Chemical Engineering PhD did the trick in the days before packaging PhDs, and she was game to try out a field in which she had little experience.
"That was almost 35 years ago, now," Selke says. "Hopefully I know a little bit about packaging by now."
She knows a little more than a little. She has served as both a professor in MSU's School of Packaging and as an adjunct professor in the College of Engineering. In 2014, she became Director of the MSU School of Packaging. She was studying packaging sustainability before sustainability was a widely used term and has published too many scholarly articles on the topic to name.
"I got into research related to plastics recycling that fit my interests and fit what was going on in the industry," she says. "The environmental interest faded away after a while, but then in the last number of years, it has been back with a vengeance."
In parallel to her research, Selke has been the consummate educator. Not long after joining the faculty at MSU, she was asked to take on the role of graduate coordinator. This translated into a lot of interactions with new graduate students, and she now considers her work with them to be among her greatest accomplishments.
Selke is also one of those few people who, quite literally, wrote the book on her field of expertise. She was the lead author in creating a textbook for plastics packaging, and later was one of the people involved in creating a similar textbook on paper-based packaging.
"The level of science that is applied to packaging, both in academia and out in industry, has changed a great deal since I started out," she says. "We're much more rigorous in analyzing what's going on and in designing solutions for real issues that are happening. The discipline of packaging is still really young, but it's come a long way in those intervening years."
Recent years have been challenging for packaging, particularly for her field of plastics packaging. But much of the derision aimed at packaging waste in general and polymers specifically is unearned, and on balance, there's a lot more good than bad. Selke sees it as an awareness and communication problem that can be solved.
"Certainly, there are cases of overpackaging, but there are also compelling reasons why, on average, packages have tended to get more complex over the years. And a lot of that is directly related to sustainability," she says. "Many packaging changes are designed to save money, and when money is saved, often resource consumption is reduced, and that means that the systems involved are becoming more sustainable. But consumers think of packages in terms of what they have to throw away, rather than the value they provide. We have to better communicate this dynamic."
She says educating consumers is a shared responsibility between the academy and industry, and between packagers and retailers, and that not any one sector can accomplish it alone. But more broadly, and in no small part due to Selke's efforts, the arrow is pointing up for the packaging field.
"The packaging community is really a wonderful, close-knit one that provides a whole lot of benefit to everybody," she says. "Too often it isn't recognized for what all the people working in the industry contribute."
The Packaging & Processing Hall of Fame will welcome all five new members as its 45th class at PACK EXPO International 2018 (Oct. 14–17 ; McCormick Place, Chicago), according to Hall of Fame coordinator and show producer PMMI, The Association for Packaging and Processing Technologies. This year's other inductees are Michael Okoroafor, Timothy Bohrer, Keith Pearson and Chuck Yuska. Read short snippets about the other inductees by clicking here, or read their full profiles, to be posted individually in coming days, by clicking here.