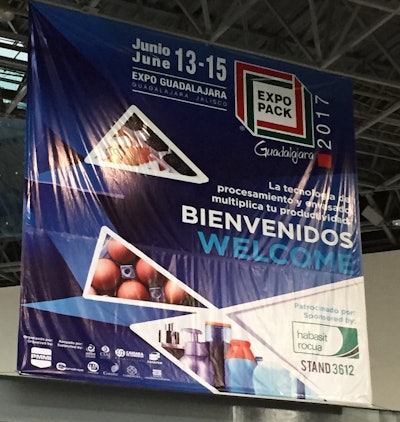 The largest-ever EXPO PACK Guadalajara (June 13–15; Jalisco, Mexico) opened its doors this morning to an expected record number of attendees seeking new technologies and insights. Produced by PMMI, The Association for Packaging and Processing Technologies, the biannual event is hosting 700 exhibitors from 16 countries spanning 140,000 net-square-feet of exhibit space.
This third edition of EXPO PACK Guadalajara is three times larger than its 2013 beginnings as a regional show for the Western Mexico Market.
EXPO PACK General Director Gerardo Barajas welcomed attendees and exhibitors alike to the $15.4 billion and steadily growing Mexican packaging and processing market. According to the Mexican Association of Packaging and Packaging (AMEE), the total production of the packaging industry increased 4.6 percent over the previous year and is expected to grow 5 percent by the end of 2017.
PMMI members have a strong presence at the show with 160 members exhibiting, and a PMMI Pavilion featuring 82 PMMI member companies.
Show floor highlights include a food processing pavilion plus international pavilions from Argentina, Brazil, Canada, China, France, Italy, Spain and the United States, as well as a plethora of educational opportunities from free on-floor Innovation Stage presentations to a full conference program, Packaging Congress and the Envases Estelares Award from the Mexican Packaging Association (AMEE). Attendees can find sustainable packaging and processing solutions by looking-out for the EXPO PACK Verde icon at exhibits on the show floor.
The show floor is open for two more days, opening at 11 a.m. each day, and registration is available on-site until the end of the show.
EXPO PACK Guadalajara is proud to have a history of support from some of Mexico's leading professional industry associations. These important organizations include Asociación Mexicana de Envase y Embalaje (AMEE), Cámara de Comercio de Guadalajara, Cámara de la Industria Alimenticia de Jalisco (CIAJ), Cámara Nacional de Fabricantes de Envases Metálicos (CANAFEM), Cámara Nacional de la Industria de Artes Gráficas de Jalisco (CANAGRAF Jalisco), Cámara Nacional de la Industria de Conservas Alimenticias (CANAINCA), Cámara Nacional de la Industria de Productos Cosméticos y Asociación Nacional de la Industria de Productos del Cuidado Personal y del Hogar A.C. (CANIPEC), Cámara Nacional de la Industria Farmacéutica (CANIFARMA) and Cámara Regional de la Industria de la Transformación del Estado de Jalisco (CAREINTRA).
Companies in this article