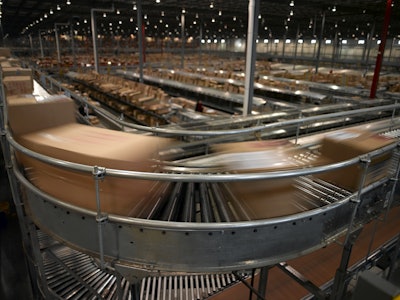 Labor shortages, driver retention and capacity restraints are some of the issues facing supply chain providers today. Kristi Montgomery, VP of Innovation at KENCO Logistics Services, will be discussing how emerging technologies are helping to overcome these issues at the WERC Annual Conference for Logistics Professionals April 28 – May 1 in Columbus, OH.
Three providers of different emerging technologies will be on hand for a panel discussion moderated by Montgomery. She said, "They're all doing very interesting things in our space…these emerging technologies are starting to really impact the supply chain."
Uber Freight, whom Montgomery said is "disrupting the freight industry using mobile technologies and data." LogistiVIEW, who has an augmented-reality "vision enablement solution" that can be connected to a warehouse management system and provide pictures of the product as well as the barcode information. "It's a real boost for quality and accuracy as well as cutting training time to almost nothing," said Montgomery. And finally, Fetch Robotics, "one of the first collaborative robotics developers that have built supply chain robotics in various formats," said Montgomery. They have mobile picking cart robots, all the way to large pallet moving robots, and according to Montgomery, are "disrupting what is happening with moving product on the floor of a traditional warehouse."
Montgomery will also be presenting on the State of Innovation in the Supply Chain, and reporting on the findings of a KENCO annual survey of 15,000 project leaders with topics such as successfully tackling digital transformation in the organization and, "what's driving innovation at your company right now?" Montgomery said that respondents who see themselves as "high performing," are looking to innovation as a way to improve customer experience. She said, "We haven't probed deep enough into the customer side of supply chain. Whether you're a manufacturer or a retailer or a 3PL, how do you discover what the end customer truly feels, and then allow that to drive some of your innovation?"
To learn more about the 2019 WERC Annual Conference, click here.
Sidebar: Women at WERC, a panel including a VP from Penguin Random House, a Senior Manager in Transportation from Abercrombie & Fitch Co. and the President of OptricityCorp., moderated by Montgomery, will discuss the topic of mentorship. How do you make a mentor connection, particularly if your workplace doesn't have a formal program? How do you start a formal program within your workplace? And, how do you develop a relationship, including establishing goals and expectations?