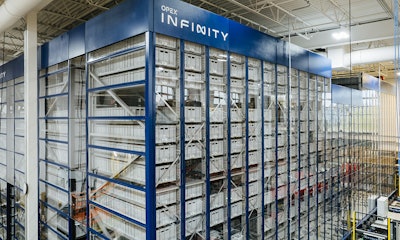 This content was written and submitted by the supplier. It has only been modified to comply with this publication's space and style.
Beckhoff USA, which saw its U.S. revenue growing by 33.4% in 2022, completed a major overhaul of its Minneapolis-area warehouse in order to ensure rapid deliveries. With the Automated Storage and Retrieval System (AS/RS) from OPEX Corp. and other strategic investments, Beckoff has returned to pre-pandemic lead times.
The AS/RS expands the warehouse capacity by 60%, which factors in room to grow. The entire project was implemented without major disruptions of customer shipments. Beckhoff USA President Kevin Barker attributes this success to the strength of the U.S. operations team and hands-on leadership of Wayne Schmeichel, Director of Operations.
"Considering the scope of this project and the pace of our warehouse, we knew we'd be essentially changing a tire at 100 mph. But we pulled it off, and that's a testament to our amazing team," Barker said. "The AS/RS helps free up our growing warehouse team from repetitive tasks to tackle more interesting challenges. That's great for productivity, sure. But more importantly, it offers better job satisfaction and more rewarding work."
The AS/RS is now fully operational with multiple mobile robots used to pull totes of product and bring them to operators. Additional conveyor systems make it easy to send the components to packing stations before being sent off to customers. Multiple Beckhoff technologies, from EtherCAT and TwinSAFE I/O terminals to a robust operator interface, are used throughout the AS/RS and conveyance solutions.
"Before implementing the OPEX® Infinity™ system, we were running out of room in our warehouse, not to mention personnel bandwidth to meet customer demands," Schmeichel said. "It's always refreshing to see technology make people's jobs easier. By automating processes, we can work smarter instead of harder, and rather than eliminating jobs, we continue to grow our warehouse team headcount to ensure the best possible customer experiences."
The upgrades at Beckhoff USA coincide with the company's comprehensive manufacturing and logistics efforts around the globe. Its global headquarters in Germany, for instance, has invested significantly in new production infrastructure and recently announced a new central warehouse. There, Beckhoff will handle shipments for European customers and process orders to Beckhoff subsidiaries worldwide. And with 750,000 square feet, the distribution facility will handle today's needs and scale for continued, rapid growth into the future.
"We expect to keep growing at the same rapid pace for years to come – at Beckhoff USA and globally," Barker said. "With our automated warehouse upgrades in Minnesota, we are taking a monumental step forward, but this certainly won't be the last step in that journey."
Companies in this article