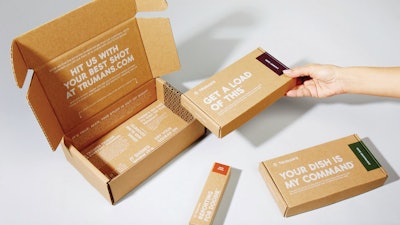 Truman's brand of household cleaning products launched in 2019 as an e-comm-only play, urging consumers to quit single-use PET bottles in favor of durable ones and quit shipping water in favor of adding water to concentrates (read Packaging World's coverage on the launch at pwgo.to/5601). The concept netted a 2019 Dow Packaging Innovation Award for its efforts. Now, in spring of 2020, Truman's announced a new line of non-toxic laundry, dish, and toilet cleaners in bar form, functionally the same as other popular detergent pods. All three are focused on simplicity and sustainable packaging, specifically designed for home delivery via the e-comm channel.
"When an Amazon search for laundry detergent yields more choices than a Cheesecake Factory menu, it's time to simplify," says Truman's Co-Founder Alex Reed. "Our new products expand on our mission to take the clutter and waste out of cleaning. We're eliminating single-use plastic bottles and making it convenient with direct shipping."
Laundry and dish detergents are two of the largest categories under the umbrella of cleaning products, so they were certainly in the long-term plan when Truman's launched in 2019. But the brand opted for a phased rollout of new product lines.
"Before we tackled a new category, we really wanted to understand our consumer," Reed says. "We really wanted to understand the market dynamics before we committed. We didn't start putting pen to paper on these product introductions until about four to six months into running the company. We really took that first period of time to understand what it is that our customers love, what they wanted to see more of, and how we could run the business in a better way. I think that was important."
With tens of thousands of customers in the concentrated cleaner subscription program, the company last fall raised $5 million in a round of investment targeting expansion, which helped quicken the development. Each product uses a proprietary anti-microbial technology that provides a deep clean without toxic chemicals. Like Truman's spray cleaners, they ship directly to customers' doorsteps in all-new, fully recyclable and compostable packaging.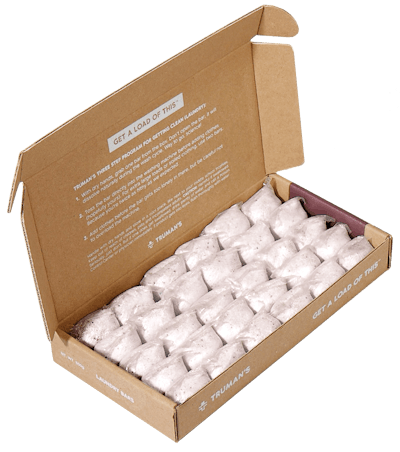 Packaging a differentiator from the status quo
"What we observed in our first two years was that our packaging really highlights the difference between us and traditional cleaners, because it's so stark," Reed says. "People are accustomed to the giant orange bottle on the laundry detergent shelf in the supercenter. Some of the brands are iconic. But across the spectrum of options, the format is consistently single-use plastic packaging, even if it's super concentrated. A lot of that's because of the way the industry operates: large pallets of product being sent to a retailer's warehouse and ultimately landing on the shelf where they need to grab attention. The packages need to be informative, and all the information anybody would hopefully want needs to be there on the product itself. It's a much different customer experience with Truman's."
The company has always approached product development, and attendant packaging design, through a lens of minimalism. That's not only in simplicity of choice, but simplicity of material and the way it's delivered. It involves eliminating dead space or eliminating extra elements, like inserted instruction guides and pamphlets.
"We really worked hard to not have anything in the package extra besides the product, but still create enough cushion that they could be delivered safely," Reed says.
All new packaging format
The original line of concentrated liquid refills wasn't too difficult. Each pack of four tough, rigid high-density polyethylene cylinders only needed a printed paperboard carton for adequate protection all the way through the many-touch e-comm channel right to a customer's doorstep.
But the new bars, composed of thin film-bound powder detergent, are far more susceptible to damage via rough handling or moisture. The challenge was to maintain the familiar minimalism, but make sure that the bars could be delivered securely without moisture ingress or punctured film.
"It started with the product itself and making sure that the film holding the physical concentrate is not so tight that any bump or bruise is going to cause it to rupture," Reed says. "It's about starting upstream with the consideration that we're not going to have a ton of excessive packaging. We wanted to make sure we were using the right form factor and preparing the actual product for its journey, not just letting the packaging carry the whole burden."
Two of the bar products—dish and laundry detergents—each use an E flute corrugated primary carton of their own. The toilet cleaner is packed in 100 PCW kraft paperboard. Refills for each variety can be ordered and shipped separately, sometimes in polybags or other individual shippers. But most subscriptions begin with the full packaging system, a starter kit called a Home Care Membership Bundle.
In it, the three primary packages are arranged in a pattern that fits them tightly together in a three-dimensional rectangle avoiding any wasted space ("shipping air" is anathema to Truman's) and are enclosed within a master printed E-flute corrugated shipper that acts as secondary packaging. The secondary shipper's most important function, beyond carrying the shipping label, is as another layer of corrugated between the pack's contents and any moisture or rain.
"They are small form factors, so usually, they're going to go in mailboxes. They're going to go under front porches or in mail slots," Reed says. "They're not going to sit out in the rain in 99 percent of cases. But even just preventing that trip from mail truck to mailbox on a rainy day, preventing any excessive moisture from getting in, was important."
Both primary and secondary packs use an ear-lock mailer structure, and printed tape is added to close them at both levels. The secondary pack usually acts as the shipper, but some individual refill products can ship in padded mailers.
Having the three different products packaged together led to another challenge: making sure they're clearly differentiated and independent from one another, easily separated, and equipped to go their separate ways. Dish bars are meant for the kitchen, laundry for the laundry room, and toilet bars for the bathroom. To resolve this, each of the internal primary packages is color coded, and the instructions for each different application are flexographically printed directly to the carton, forgoing external directions that could get separated from the package. This prevents dishwasher detergent from ending up in the laundry, or vice versa.
An unforeseen benefit of the bar form factor was that it's now widely familiar and doesn't require the same level of instruction as its cartridge refill predecessor. That's important since there are three different detergents in one Home Kit shipper that's roughly the same size as the original liquid cartridges' paperboard carton. Each corrugated or paperboard primary package in the new bar line is maybe a third of the size of its paperboard predecessor, so on-pack printing space is comparatively limited.
Overall, packaging for the new line entailed taking that same design mentality from the first line and applying it to a new form factor with the same goals in mind: no packing peanuts, no air cushions, no extra padding, and no dead space. To validate all these packaging decisions, Truman's employed a third-party supply chain company to test and optimize the packaging system.
"Philosophically, for us, it's less about being a sustainability-first brand, and it's more about just minimizing waste where you can," Reed says. "It's practical, too, considering shipping rates and their relationship with dimensional weight. If you're able to do it, why not do it? Since we're taking a fresh approach to these cleaning products, it gives us a license to rethink how we want to package and deliver them."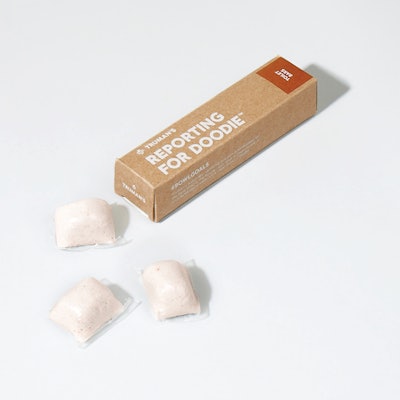 Sharpening sustainability chops
Packaging design priorities were function first—getting the product through the channel intact—then form and consumer interaction with the packs. Sustainability was really the last piece of the equation. Truman's had a structure and a form in mind, the last step was to go out and find sustainable material that could still accomplish those first two goals.
The new product line's packaging, both paperboard and corrugated, is 100% post-consumer recycled content. A first for Truman's, they are entirely compostable, too. While the material selection for the corrugated and paperboard is unique to this new bar line, Reed says it's instructive for all of the packaging, and Truman's is going to take a look at how well the compostable material will work for the existing line.
"There are so many new technologies with material, especially within shipping and e-commerce, that we're always looking for ways where we can reduce our footprint," Reed says. "This was a cool process for us because it was only a year on the heels of launching our first product, and we were already able to show some improvement that was also economically feasible for us. We're a startup, and we have to be cost-conscious. But I think we've got more flexibility, both with the ingredients that we choose and also the packaging materials we source, to be able to pay a little bit extra to achieve our goals without putting ourselves in a position where we're making a niche product that has to be priced way above the rest of the market and then ultimately inaccessible to a lot of people. It's not that we've hit a finish line with this current packaging. I think we're always going to evaluate it and certainly look for opportunities to minimize impact anywhere else we can." -PW