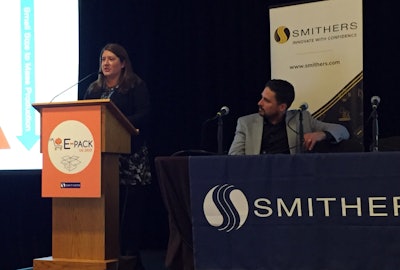 The face of retail continues to change. Brick and mortar stores are closing while online business continues to grow. The world is being disrupted by e-commerce, with consumers gaining more knowledge about what retailers are doing and demanding more personalized experiences. There are new expectations for brands and the packages that carry their products.
Rather than go the way of the lumbering giant, falling prey to the difficult demands of consumers, Johnson & Johnson has opted to act like a startup, creating a small team of R&D specialists to drive brand and packaging decisions through e-commerce channels. At the E-Pack Summit US this week in Seattle, Johnson & Johnson executives explained the route they've taken, sharing the lessons they've learned in the relatively early stages of their journey.
"There's unprecedented change in industry," said Melissa Dandy, associate director of R&D e-commerce and new business models for Johnson & Johnson. "We're being asked to compete in a very competitive landscape where there's very low barriers to entry. The classic months-long development process doesn't work anymore. Consumers want us to be where they are, not where we think they should be."
In a classic scenario, Johnson & Johnson could spend two years working to develop a new product—only to pull it off the shelves two months later because it was the wrong execution. Instead, they're looking at small players like Harry's that have started small, building up brand loyalty online before moving on to other retail channels like Walmart. And they're wondering why they can't do the same.
Keep it small and simple
They've started doing just that, building a purposely small team—one that could be fed with just one or two pizzas—and creating a very collaborative environment that's biased to action, Dandy said. With just five to seven people on the team, they can bring in more resources as they need them. "We can identify people in the organization and say, 'We need you for a short period of time,'" she said. "We bring in people as we need them."
Keeping the arrangement small and simple is key to success in this new landscape. It's given the R&D group the ability to maintain an agile mindset. Another strategic change Johnson & Johnson made for this team was end-to-end ownership. "We're blessed with our own budget and leadership structure," Dandy said. "We found this to really benefit us at J&J when we're working on small projects. We can make decisions on the spot and move forward. We have spirited discussions and challenge the norms."
They have made a point of keeping that team small. "People saw the benefit of working in a smaller team," said Laszlo Moharita, who led this effort as director of global e-commerce and new initiatives R&D. "We actually had to push people back and say, 'We don't need your help right now.' So many folks saw this change in a refreshing way."
End-to-end ownership
Though the team certainly had challenges convincing Johnson & Johnson that this was the right direction to go, it helped that they were asking for a small percentage of product development resources to be dedicated to the e-commerce efforts. Moharita told the top brass: "I will not be asking for a team of people and I will not be asking for more than $100,000," he said, adding that this helped Johnson & Johnson relax about whether they needed to be ruled by the same laws as the rest of the company.
Adopt a digital mentality
As part of the unprecedented shift in industry, the Johnson & Johnson team needs to get out to the market faster than ever. That requires a considerable change in the mentality needed in this new world. "We really need to educate folks in our organization about how the battleground has shifted," Dandy said. "We need a rapid shift in mindset in order to deliver to the consumer what they want."
Keep the consumer at the center
One thing that hasn't changed: The consumer is always at the center. Although Moharita and Dandy listed this strategy last, they pointed out that it's still the most important aspect.
One example they pointed to that they were particularly proud of was the launch of their Listerine Ready! Tabs. Consumers were asking for a portable versions of Listerine, and Johnson & Johnson was able to deliver on that in an e-commerce-ready package. "We were able to develop e-commerce directly into the design," Dandy said. "We were able to get in early, design it from the start, and have a really positive experience."
The consumer's unboxing experience—a topic discussed often throughout the day-and-a-half conference—is a very important packaging aspect to keep in mind. "They not just looking for the product or the packaging anymore; they're looking for a whole experience," Dandy, who joked about not being happy if she has to go to the garage to get a power tool to open something she's ordered online.
But it's not only a matter of convenience, but one of sustainability and the public's perception of how your brand is taking responsibility for that. "We have to think about the tons of waste that e-commerce generates every day," Dandy said, pointing to plastics in particular. "The industry, with unsuitable packaging, is creating a lot of noise around sustainability. The consumer perception is that plastics are bad. But plastics are not bad if you use them in the right way. If they're able to be recycled, they're actually very good for us. We need to eliminate the excess packaging that we deal with today."
Moving beyond infancy
Johnson & Johnson's e-commerce R&D team is in its early days—just about a year into its journey—and has more exploring to do to keep challenging the norms of retail packaging. "We're willing to try anything at this point to get us much learning as we can. We're planning to launch a second or third test and learn later this year," Dandy said. "We're gathering as much data as possible to really test the limits of what's possible."
Companies in this article