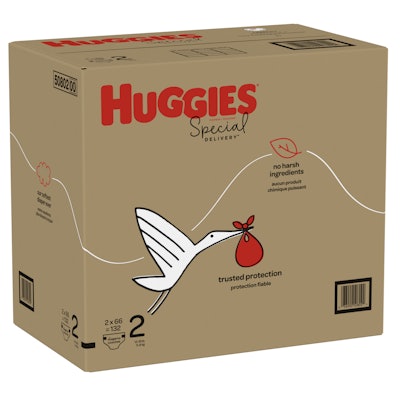 Huggies®, a Kimberly-Clark company, introduced Huggies Special Delivery™ diapers, billed as the company's "perfect diaper." Notably, the diapers themselves are made from 23% plant-based material by weight, but from a packaging perspective, it's interesting to see that the new line had omnichannel in mind.
"All Huggies Special Delivery pack types are first packaged in bags. Depending on the pack type, they are either then placed into a carton or case. Our smallest pack offering of Huggies Special Delivery is produced in paperboard cartons that are die cut. The rest of our retail cases, along with our e-commerce packs, are corrugated and also die cut," says Eric Lausch, Packaging Engineer, Kimberly-Clark.
Featured in a stylish black box with the iconic Huggies logo, Huggies Special Delivery diapers are now available online in sizes Newborn through Size 6, as well as at major U.S. retailers throughout North America. The line features some packs that are Ships in Own Container (SIOC) and others that are not. Consumers visiting the Huggies website are invited to first select the size, then select the channel for delivery. A list of large nearby retailers that offer the product is presented, as is a list of online e-tailers. Via Amazon, consumers can even select automatically replenishing subscription options.
"The smallest pack offering in a paperboard carton is shipped to stores in brown boxes. All other Special Delivery packages, outside of the cartons, are SIOC. The only coding/markings across the Special Delivery products are the case/retail bar codes," Lausch says.
As for the retail side of the omnichannel offering, with a promise like "our perfect diaper," as clearly stated on the corrugated and paperboard cartons and cases, Lausch knew "the graphics would have to break through and make waves."
"We found that the black and white photography against a black background connected in a bold new way that not only draws attention, but also evokes the emotional connection between parents and babies to create an elevated experience," he says. "Pairing this with the rigid carton design, Huggies Special Delivery acts as a disrupter on store shelves saturated with flexible film packaging."
Companies in this article