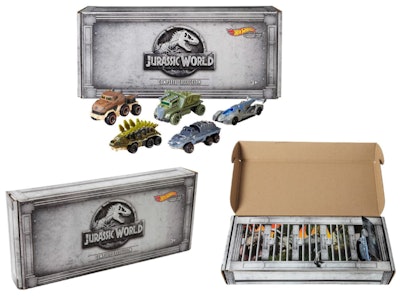 The linear path to purchase is the good old days, says Pogliano, and no longer exists. Fifteen years ago, you would see a TV commercial, go to the store and buy the toy off the shelf. The traditional "Moments of Truth" model for advertising, shelf display and purchase has become the "Zero Moment of Truth" during on-line shopping. And now, a new "Moment of Truth" has emerged—some buyer's first engagement with a toy is when someone else shares their unboxing experience and toy review.
That's why a memorable unboxing experience can be so powerful—not only for the new customer, but many other potential buyers who will be influenced by what they see and read.
Pogilano's remarks came at E-Pack Europe 2019, the inaugural event for packaging e-commerce shipments hosted by Smithers-Pira in Berlin March 26-28.
One big implication is the e-commerce shopper might have zero interaction with the package until it arrives at home. Super colorful packages with transparent blisters to showcase the product, and cut-outs for "try me" button-pushing, do not play any role in e-commerce.
Instead, on-line marketing exists of multiple product shots of the toy being enjoyed (maybe even video). No packaging in sight.
The second big implication, according to Pogliano, comes from research showing 70% of teens trust influencers more than traditional celebrities, 86% of women use social media for purchasing advice, and 40% of consumers admitting to purchasing something they came across on social media. The unboxing experience, reviews and social media "buzz" can be someone else's introduction to the product.
The YouTube unboxing craze, "the fascination of watching someone you don't know open something you don't own," started with tech in 2006 with the unboxing ceremony for the Nokia E61. By 2015, in that one year alone, six and half years of unboxing video was downloaded to YouTube. Thirty-four percent of unboxing videos are posted between October and December, in the run up to Christmas.
The highest earning "YouTuber" in 2018 was an 8-year-old boy who hosts Ryan's Toy Review. With 18 million subscribers, Ryan earned a whopping $22 million dollars as an influencer, according to Pogliano.
So, Mattel creates e-commerce toy packaging (brown box with black graphics) that can be easily posted and get into the hands of the consumer undamaged. None of the brightly colored store packaging with exciting graphics is featured in on-line ads or on the e-commerce package.
So, for instance, five different Jurassic World™ cars individually packed in blister cards for shelf display, are packaged for e-commerce sale in box that looks like a cage—complete with illustrated dinosaur claws poking out of the bars of the cage. Note that Mattel now takes five individual products and "bundles" them for a higher priced offering that makes shipping costs affordable—a cardinal rule of e-commerce strategy. Mattel focuses on enriching the consumer experience when unboxing, rather than worrying about what the package looks like on the outside.
In similar fashion, a Hot Wheels® collector's set comes in a nice white box with Hot Wheels® logo, but when opened, the package inside becomes a two-tier display garage to hold and show off the collection. In another Hot Wheels® offering, a construction crash kit, the packaging again becomes an integral part of the play set, with "punch out" pieces that become part of the product and the experience.
Pagliano offered three rules Mattel follows for e-commerce packaging.
Packaging should not get in the way of the unboxing experience. (Think those ubiquitous twist ties used for anti-theft in items bought off the store shelf. Not frustration free and not needed for in-home unboxing.)
Packaging should create "theater" by enhancing and showcasing the different components.
In some cases, packaging can become an integral part of how the product is used and experienced. (Nice "reuse" sustainable component!)
Social media and influencers are becoming so critical to Mattel, Pogliano's future plans include better tracking of both positive and negative reviews, and how Mattel should respond in case of negative word of mouth on social media.
Companies in this article