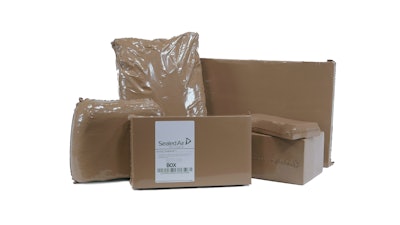 As a corrugated replacer with its sights on the e-commerce channel, StealthWrap™from Sealed Air increases distribution efficiency, reduces packaging waste, and enhances user experience. Via a heat shrink tunnel, the material shrinks to the dimensions of primary packaging to create a damage-resistant covering and reduces billable freight weight by as much as 18%.
StealthWrap is a 29-microlayer irradiated polyolefin material with opacity benefits that deliver both concealment for privacy and pilferage resistance in doorstep delivery e-commerce settings.
"The reason for so many layers, in concert with irradiation, is to obtain strength while still using an opaque material and to minimize forfeiture of strength that's typically the case when keeping a material as thin as possible," says Jeff Potts, Global Executive Director of Marketing and Solutions for Flexible Parceling at Sealed Air. "All of those layers in concert with one another allow us to produce a 150-guage material that will outperform virtually anything else in that space and survive the small parcel environment, day in and day out."
For a flexible material, StealthWrap is remarkably strong, according to Potts. Of the 29 layers, the two exterior plies or skins are clear, as are the first two interior layers. The 25 core layers are where the solid opacity colorants are added.
"This is what we call nanomaterial technology, which means the solids are so incredibly small, about the size of a billionth of a human hair, that their presence minimally affects degradation of film strength," Potts says.
Traditional corrugated shippers still can offer greater cushioning and rigidity, but Potts says StealthWrap outshines them in situations where a product's primary packaging accomplishes most of the necessary product protection.
"Applications range from footwear, which is the most common in terms of the number of the end users, to consumer packaged goods. We have about 25 systems running product around the world," Potts says. "Consumer electronics are big. Notebook computers are good StealthWrap customers because the products have sturdy primary packaging but the desirable brand names on the outside of the box make them especially vulnerable while sitting on a front porch. We're also doing a lot in the pet market with products such as dog food and cat litter and in the home and garden markets with things such as fertilizer and soil—bulk items that don't fare well traveling in rigid rectangular boxes. Protein drinks that come in 12-pack "milk carton" style packaging, are other sweet spots for StealthWrap."
StealthWrap is not a barrier film in the sense of food packaging, and seals aren't hermetic, but its poly outer layers provide water resistance unlike corrugated. Other advantages include the total weight reduction compared corrugated for lower cost shipping and less material used for an improved sustainability profile.
"Thinness is not only good for cost, but also machinability when it comes to the wrapping process, the length of the rolls in terms of uptime for the user, and sustainability benefits because you can perhaps use half as much resin to accomplish the same thing," Potts adds.
Companies in this article