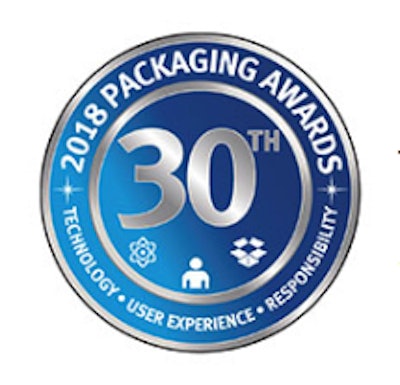 The Dow Chemical Company (Dow) announced the winners of the 2018 30th Awards for Packaging Innovation, which recognizes the packaging industry's top achievements in innovative packaging designs, materials, technologies and processes.
The highest honor, the Diamond Award, went to Procter & Gamble's Air Assist, a breakthrough in performance and sustainability for e-commerce and brick-and-mortar packaging. The liquid packaging technology uses compressed gas to provide tailored rigidity to create structure in flexible films. By utilizing a proprietary one-way valve, the new packaging form delivers cleaner dispensing, more controlled dosing and more convenient one-handed use while still being tough enough for e-commerce shipping without extra protection. Air Assist also uses 50 percent less plastic than a traditional rigid bottle and has a 360-degree palette for design, making it a more resource-efficient solution.
"We received hundreds of very strong submissions this year, collectively demonstrating a deep global commitment to serving consumer needs and addressing worldwide challenges," said Diego Donoso, business president for Dow Packaging & Specialty Plastics."This year's winners display customer-first designs with improvements in material technology and responsible resource use, from new formats in food packaging and e-commerce protection to improved medical and hygiene packaging."
Dow's 2018 30th Awards for Packaging Innovation successfully continues the DuPont Awards for Packaging Innovation program, which is the industry's longest-running independently judged packaging awards program. As in years past, the judging panel featured experts with diverse backgrounds, providing global perspectives across design, engineering, retail, converting and academia.
"It's amazing to see firsthand these innovations that are improving consumers' lives throughout the world," said lead judge David Luttenberger, global packaging director for Mintel Group, Ltd. "I'm humbled to be a part of this experienced, expert judging panel, and excited to see companies around the world innovate to create packaging that meets ever-changing consumer demands and sustainable practices."
The judges evaluated more than 200 entries from companies in 30 countries. In addition to the Diamond Award, the top honor of the competition, the judges also selected nine Diamond Finalist Winners, eight Gold Award Winners and eleven Silver Award winners:
Diamond Winner: Click to read in-depth report
Diamond Finalists: Click to read in-depth report
Gold Award Winners
Doritos Crunch Prism Pack — PepsiCo Frito-Lay
Doritos E-Z SnackPak™ — ProAmpac
Dual Hoop Catheter DISK — CleanCut Technologies
Extra Rich Rosy Foam Facial Wash Packaging — Kanebo Cosmetics Inc.
Green Giant® Veggie Spirals™ PrimaPak® — Sonoco Products Company
Head & Shoulders Beach Bottle — Procter & Gamble
VOLTAREN® "No Mess" Applicator — GSK
Wave Seal Technology — Wave International
Silver Award Winners
ASAHI SUPER DRY ICE COOLER PACK — WestRock, K.K.
CleanPouch Aseptic Spouted Pouch System – Scholle IPN
Danoninho para Levar — Danone Brazil
Downy (Lenor) Parfum des Secrets Package — Procter & Gamble
KitKat Celebreak Box — CBA B+G
Mix On Command® (MOC®) Shaker Bag — JPro Dairy International, Inc.
PaperBoat Thandai Retortable Profile Pouch – Huhtamiaki PPL Ltd.
Ariel PurClean™ Package — Procter & Gamble
PushPop® Technology — Amcor Flexibles
Stain Remover Qualitá - New Again Plastic Container — GPA Group
Two-Layer Laminate Sachet for Packaging Margarine — PrimePak Industries Nigeria Limited
To see the Dow Gold & Silver award winners, click here.
For more information and images of each winning entry, please visit www.dowpackagingawards.com.
About Dow Packaging and Specialty Plastics
Dow Packaging and Specialty Plastics, a business unit of DowDuPont Materials Science, combines core strengths of R&D, worldwide reach, broad product lines and industry expertise to deliver sustainable solutions for plastics and adhesives markets. The business focuses on high growth market segments in flexible and rigid food packaging, secondary and tertiary packaging, personal hygiene and medical products, and adhesive applications. Dow Packaging and Specialty Plastics is one of the largest polyethylene producers in the world, and is a leading innovator and collaborator across the value chain.
About The Dow Chemical Company
The Dow Chemical Company (Dow) combines science and technology knowledge to develop premier materials science solutions that are essential to human progress. Dow has one of the strongest and broadest toolkits in the industry, with robust technology, asset integration, scale and competitive capabilities that help it to address complex global issues. Dow's market-driven, industry-leading portfolio of advanced materials, industrial intermediates and plastics businesses deliver a broad range of differentiated technology-based products and solutions for customers in high-growth markets such as packaging, infrastructure and consumer care. Dow is a subsidiary of DowDuPont Inc. (NYSE: DWDP), a holding company comprised of Dow and DuPont with the intent to form three strong, independent, publicly traded companies in agriculture, materials science and specialty sectors. More information can be found at www.dow.com.
Companies in this article