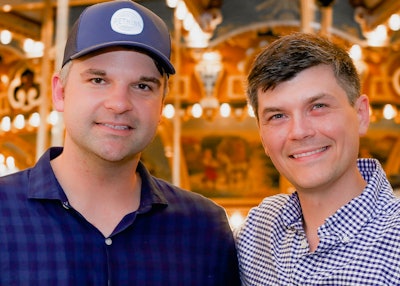 Earlier this year, Rethink Brands made a splash in the children's flavored water segment by redesigning its packaging and branding and introducing new flavors (see pwgo.to/3706).
But the Columbia, MD-based company wasn't done, announcing in late July that it had received a $6.7 million investment for growth and expansion from AccelFoods.
Packaging World: What is the significance of this funding?
Matt Swanson: This funding marks a pivotal moment for Rethink. We always knew we were on the right side of health trends and consumer priorities. By addressing the needs of children, we are able to make a real difference: creating a product that encourages healthy drinking habits for our youth, while improving the buying and decision-making experience for parents. Giving our consumers more and better options, and continually innovating our approach, is key to our success, and AccelFoods has been and will continue to be the right partner to help us get to the next level.
We're currently in more than 11,000 stores across the country, and this investment will support Rethink's explosive growth and continued distribution across the U.S., fund field teams in key markets to execute on the expansion, and develop new, innovative product launches in the upcoming year.
How significant is e-commerce business to your company?
E-commerce is without question our fastest-growing channel of business.It represents anywhere from 10% to 15% of our monthly sales.More than sales, it allows us the opportunity to directly target and deliver to our core shopper without the standard "live distractions" that occur in store.It is both equal parts sales and marketing.
What is your packaging strategy for both retail and e-commerce sales?
Our packaging is the same whether you buy Rethink on our website, on Amazon, at Target, or any of the other retail locations where our products can be found. We recently rebranded our Rethink Kids line, making it more in line with how we see ourselves as a company—fun, energetic, and forward-thinking. What's on the outside of the carton reflects what's on the inside.
How are your packaged products positioned in the beverage market?
While we recognize that beverage options are only increasing, Rethink Kids Water is truly revolutionary and fills a void in the market. We recognized that kids' hydration was a segment that has been largely underserved for decades, and in putting RETHINK Kids Water on shelves, we're offering families a better, healthier option.
What other key issues/challenges does Rethink face in the market?
Quite frankly, the single greatest issue and hurdle we face is that of shopper education and awareness.We live inside a kids' beverage world that hasn't changed for 30-plus years.People have been walking this aisle since 1975 and have seen very little by way of innovation in healthy improvement.So, it's more than introducing a new brand or product, it's about changing the perception of an entire category of products.That's quite the puzzle…but one that's most definitely worth solving.
Water remains a dominant beverage
When Rethink launched its line of kids' sugar-free, organic, flavored waters in 2016, it focused on disrupting the bottled water category by focusing on "eliminating the 40 billion plastic bottles that end up in landfills and oceans each year." That said, beverage company respondents to a recent PMMI Business Intelligence survey indicated that water was the most common beverage they produced. Source: PMMI Beverage Trends In Packaging And Processing Operations 2018. (See pwgo.to/3547).