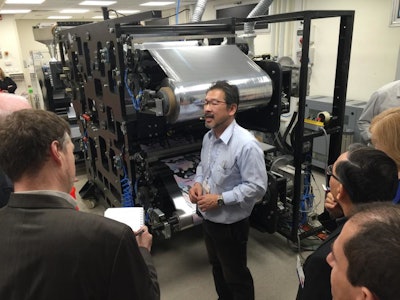 Small test market production runs from big-brand marketers as well as niche products from small entrepreneurs have long struggled to send their new products to market with packaging that has the qualities of their established competitors on the shelf.
The digital printing revolution, now underway, provides a solution, and contract packager ActionPak, Bristol, PA, is on its leading edge. The company offers, among other co-pack services, shrink-sleeve labeling with digitally printed graphics.
Last year, the company purchased and installed a new piece of equipment to cater to this need for more affordable short-run shrink sleeve labeling services. That new piece of technology is a "Tunnel Tornado" from Karville Development Group. This represented "a decisive advancement in shrink sleeve labeling," said Ira Smith, CEO and President of ActionPak, of the installation. He noted its patented High Airflow Tornado section, which achieves higher quality shrinkage than conventional steam or hot air tunnels without the need for product rotation while at the same time saving energy.
Smith added that digital printing "makes production of small label quantities very affordable, but until recently, many brands with small volume needs would not have considered shrink sleeve labeling to be a viable decorating option." He added that high cost and the fact that most shrink sleeve labeling operations in the US are set up to accommodate much larger runs "have been considered the primary obstacles."
Today, Karlville Development Group is involved with a new digital press technology that may yield further benefits for ActionPak and others of its ilk. In late March, Karlville became the first laminator-supplier to partner with digital printing leader HP Indigo in order to commercialize a new lamination technology called Pack Ready. The technology eliminates cure time to speed time to market and deliver quicker turnarounds than previously possible. Commercial availability of the system is expected in 2017.
Karlville's role in the new technology was announced at HP Indigo's pre-drupa event in Tel Aviv, Israel, March 21-23, 2016, which provided an advanced glimpse of HP Indigo's most recent digital printing press technologies affecting the packaging market. For details, read the April 7 Packaging World story, "New digital presses, systems aimed at packaging."