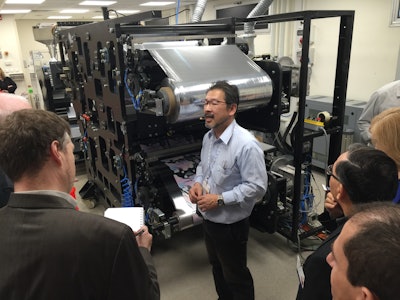 Last week, HP Indigo unveiled several machines and systems designed to take better aim at the labeling, flexible packaging, and folding carton arenas. This included upgrades to existing machines, new inks, and one completely fresh lamination system that the company calls Pack Ready.
The need for speed
HP Indigo Pack Ready lamination, which eliminates cure time to enable faster time to market, delivers quicker turnarounds than previously possible. The Pack Ready laminator creates a film that doesn't require curing, so it connects directly to an in-line f/f/s machine to produce pouches with no lag.
The lamination process on the Pack Ready laminator combines different films, each providing a different functionality (print quality for shelf appeal, protection of food for longer shelf life, sealant film to melt together via heat, etc.), just as converters do.
The quality of the bond strength between substrates being joined is key, as lamination failure leads to compromised food—a worst-nightmare scenario and totally unacceptable for food manufacturers.
Until today, mainstream lamination for flexible packaging, like solvent-based lamination, requires a curing process, which can take a few days, a week, or even 10 days for high-end applications.
"Waiting 10 days for a film to cure clearly lengthens time to market. But digital printing's greatest strength is reduced time to market," says Mach Machikawa, flexible packaging segment manager, HP. "So the biggest advantage of digital printing is diluted in time spent waiting for curing."
Pack Ready lamination, however, provides zero-cure time, according to Machikawa. Not only that, it provides instant peak performance. "This sounds too good to be true, I realize," he adds. "But the Pack Ready bond strength between substrates is remarkably good, at around 9 Newtons (N) per inch. Of course this is subject to the type of food application, but under most circumstances, 2N per inch is sufficient. So more than quadrupling that tolerance gives brand owners peace of mind."
The secret to Pack Ready, according to Machikawa, is the combination of film and specially designed thermoplastic polymer resin layer, which HP R&D spent years understanding and perfecting. This is HP proprietary intellectual property, and the company aims to license it to select Pack Ready partners. The resin is heated, melted, and coupled via pressure with the printed plastic material within the converting machinery to mechanically bond (entangle) the functional layers. Lamination speeds can reach 386 ft. (100 m) per minute.
The solution allows for high-performance applications such as retort. Also, its environmental impact is minimal because it's a solvent-free process. This means the process is friendly to operators, as it lacks irritating volatile organic compounds (VOCs).
The company adds that ease of use means accessibility to high-quality, zero-curing, food-grade package lamination for even inexperienced converters or packagers.
Karlville Development Group is the first announced Pack Ready partner that will develop the Pack Ready laminator, and HP will announce the Pack Ready film supplier soon. Commercial availability of the system is expected in 2017.
Labeling, flexible packaging, and new substrates
The new HP Indigo 8000 digital press aims to be the industry's most productive digital narrow-web press. The 8000 offers end-to-end labeling production at double the speeds currently available according to the company, up to 262 ft. (80 meters) per minute. Working in-line or off-line with an ABG FAST Track semi-rotary die cut unit, the press provides an efficient all-digital workflow as well as real-time quality assurance, using AVT inspection technology.
The 8000, as well as the also-updated HP Indigo 20000 Digital Press, supports HP Indigo's new ElectroInk Premium White, a versatile ink that helps converters deliver a wider range of opacity levels. Additionally, the 8000 and 20000 presses feature a new color automation package that aims to perfect color accuracy, consistency, and repeatability, enabling converters to reach any brand color in minutes, according to HP.
Specific to flexible packaging, the HP Indigo 20000 Digital Press now features an upgrade package that enables compatibility with new substrates, such as polyethylene and stretchable materials, for a wider range of high-volume flexible packaging, shrink sleeve, and in-mold and pressure-sensitive label applications, including lids and laminated tubes. It also features new color capabilities, allowing advanced color matching and color consistency across jobs, presses, and sites. Support for the aforementioned ElectroInk Premium White in high-concentration 20-kg ink pails promises industrial-scale productivity.
Cartoning upgrades
The HP Indigo 30000 Digital Press upgrade package increases productivity up to 30 percent and enables dozens of folding carton jobs per day, according to the company. The press allows new high-margin opportunities with synthetic media as well as metallized boards, polyvinyl chloride, polypropylene, and polyethylene terephthalate materials. The HP Indigo 30000 Digital Press also provides new and improved security features, such as micro text and barcodes.
Designed especially for in-line finishing with the HP Indigo 30000 Digital Press, the TRESU iCoat 30000 now offers protective and spot varnish in one pass as well as new embellishment capabilities with gold, silver, and other high-viscosity flexo inks. The HP Indigo 30000 Digital Press is also compatible with HP partner converting solutions for inspection, creasing, folding, and gluing. Integration with AVT's inline inspection system ensures error-free production, automatically ejecting defective sheets.
HP will demonstrate the new solutions May 31-June 10 in Hall 17 at drupa 2016 in Düsseldorf, Germany. HP is also showcasing these solutions at Dscoop Tel Aviv and Dscoop San Antonio in April.
Add your voice to the discussion, and share your analysis of new HP Indigo labels and packaging solutions and their potential for customers by adding the #ReinventPossibilities hashtag alongside #drupa2016.
Companies in this article