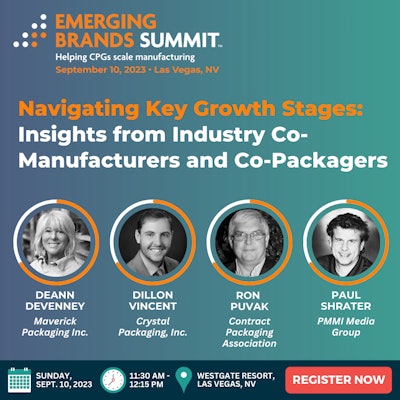 The Emerging Brands Summit (EBS) will take place on Sun, Sept. 10, just before the kickoff of PACK EXPO Las Vegas 2023 in the Las Vegas Convention Center on September 11-13.
EBS is designed to educate fast-growing emerging brands on how to scale their manufacturing operations. The event brings together expert advisors from seasoned brands, suppliers and contract services.
Among the panels and discussions providing valuable information and experience to these emerging brands is a panel discussion, "Navigating Key Growth Stages: Insights from Industry Co-Manufacturers and Co-Packagers," led by:
Ron Puvak, executive director at Contract Packaging Association (CPA)
DeAnn DeVenney, director of sales and marketing at Maverick Packaging Inc., and new CPA board member
Dillon Vincent, director of quality assurance at Crystal Packaging Inc, and new CPA board member
Paul Shrater, president at Minimus Brands LLC
These experts will delve into the challenges commonly faced within the three growth stages all brands experience with the goal of helping these new brands understand the considerations crucial for sustained growth and operational excellence.
The three growth stages are:
The launch phase, which is completing the product and process development before using a contract service and then finding one that is aligned with the brand's vision.
Scaling up through strategies that allow for smoother transition to larger volumes of production, while also keeping in mind product consistency and quality as well as cost-efficiency.
Expanding distribution with an understanding of the challenges and opportunities attached to each channel, which involves finding the right partners who will support market requirements and regulatory compliance.
Co-man and co-packer experts will provide practical insights and actionable strategies based on their experiences, both successes and failures and difficult roads that fall somewhere in between.
Companies in this article