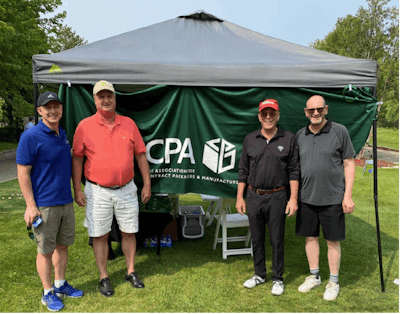 After a busy spring trade show season that saw hundreds of visitors to their booths, CPA focused on expanding its network and awareness to related industries.
Networking and partnerships
CPA expanded their interaction with CPGs with a joint event in June with Chicagoland Food & Beverage Network, which represents the second-largest food and beverage industry market in the nation. CPA formed a partnership with Chicagoland Food & Beverage Network last summer and has been working to provide mutually beneficial opportunities for both associations. The event entitled, "Leveraging Co-Packers for Innovative Supply Chain Solutions," was held on June 8th at the Frain Industries, Inc. headquarters in Carol Stream, IL and included a co-pack/co-man state of the industry report, a panel discussion and Q&A featuring CPG decisionmakers, Co-Manufacturing leadership, industry analysts, a facility tour and networking.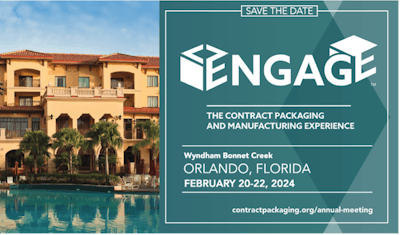 On May 18th, CPA sponsored a golf tournament put on by the Chicagoland Food & Beverage Network and Bigger Table–a 501(c)3 nonprofit organization bringing together the food & beverage industry to address hunger, unemployment, and inclusive economic development in Chicagoland. The foursome included CPA Board President Jerry Thompson, Jeff Graham, former CPA Board President Mark O'Malley, and CPA General Counsel Eric Greenberg.
CPA also furthered their relationship with CHPA, Consumer Health Products Association, by securing participation in the CHPA 2023 Regulatory, Scientific & Quality Conference. This conference takes place September 18-20, 2023, in Bethesda, MD and brings together leaders from industry, regulatory authorities, and academia across the consumer healthcare landscape to focus on the self-care space. This is the first CHPA event they have participated in and gives CPA the chance to talk to self-care product developers about contract packaging and manufacturing services offered by its members. CPA hopes to expand awareness of its "Request for Quote" tool to help more consumer healthcare brands find member companies that can help bring their product to market.
CPA election results

The CPA board held elections for two General and two Associate Board Member positions following the February ENGAGE event. After votes were tabulated, CPA had two new General Board Members, DeAnn Devenney, Director of Sales and Marketing for Maverick Packaging, Inc., and Dillon Vincent, Director of Quality Assurance, Crystal Packaging. Two Associate Board Members were re-elected to another term – Gregory Frazier, Director of Sales for Frazier & Son and Dan Altman, Vice President of VP Sales & Marketing, Delkor Systems, Inc.

The full board met onsite in June at the Wyndham Bonnet Creek in Orlando, Fla, home to the 2024 ENGAGE, The Contract Packaging and Manufacturing Experience. The group came together to plan how to make the next show even more successful than the record-breaking 2023 event.
Coming soon–PELV and the state of the industry report
At the close of the summer, CPA's biennial State of the Industry Report will be released. The association looks forward to sharing its findings from the preeminent guide to trends and statistics regarding the contract packaging and manufacturing industry since 2008. The guide can be ordered at www.contractpackagingreport.com and CPA members always receive a discount on the report and complimentary executive summary.
CPA looks forward to a busy fall, exhibiting again at PACK EXPO Las Vegas, September 11-13, in the Association Partner Pavilion. This year, they will also participate in four separate speaking engagements at the show. This includes their debut as part of the PACK EXPO First Time Attendee Lounge. CPA will be presenting "Bringing Your Products to Market Using Contract Packagers & Manufacturers" in the lounge to help brands learn how to find help at the show through its members. Additionally, the association will return to exhibit at Natural Products Expo East in Philadelphia, Pa.
Companies in this article