CPA, the Association for Contract Packagers and Manufacturers, has made available the CPA "2021 State of the Industry Report." The expanded, comprehensive report, now in its sixth edition, combines over 150 online executive interviews, plus quantitative and qualitative primary and secondary research to produce a more detailed view of the contract packaging and contract manufacturing (CP/CM) industry, including its opportunities, headwinds, and evolving future.
The report provides 180 pages of information and perspective on the CP/CM industry. Investors, vendors, customers, and competitors are all seeking a competitive advantage. That edge begins with the information provided by this report.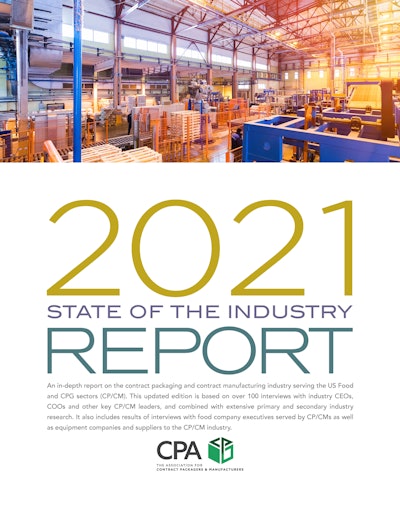 Topics covered include the following:
· Defining the food/CPG industry by scope and revenue
· Industry CAGR 2021-2025 by sector
· Post-pandemic trends
· The continued expansion of private equity
· Industry consolidation trends
---
---
· Customer views on the changing marketplace
· The current labor market and widening talent gap
· Demographics on size, company age, locations, revenue
· Enterprise technology implementations and penetration rates
· Offshore and Mexico-based competition
· Sustainability trends
Want to learn more before investing in the full report? You can order the Executive Summary for a high-level overview of the report findings. Non-members, if you decide to order the full report after reading the Executive Summary, the cost of the Executive Summary will be credited toward your purchase of the full report. CPA members receive the Executive Summary for free and can purchase the full report at a 50% discount.
CPA Bolsters Value Prop Through Various Partnerships
Over the past couple of years, CPA has been fostering relationships with companies that can offer unique information and services useful to those working in the CP/CM industry.
· Legal consultation: The law firm of Eric F. Greenberg, P.C., represents clients at every level of the food and drug development, manufacturing, distribution, and packaging industries. The firm represents clients from across the U.S. and around the world. Each CPA member company receives a half-hour session with Greenberg, who can educate you in food and drug regulatory law with an emphasis on packaging and labeling issues, general business, and commercial litigation. To arrange a consultation, email Eric at greenberg@efg-law.com and identify yourself as a CPA member.
· CPA and SGS: SGS, the world's largest certification body, with over 200,000 customers globally, is offering to help CPA members navigate the complexity of Quality and GMP standards and certificates needed to operate in the food, pharmaceutical, cosmetic, and medical device industries. Questions may span the selection, design, implementation, training, certification, and maintenance phases of certification.
· Blaige & Company consultation: Thomas Blaige is offering his expertise in M&A exclusively to CPA members. Each CPA member company receives a complementary one-hour session with Blaige, who has over 30 years of transaction experience in CP/CM M&A. Blaige & Company covers five CP/CM markets, each having its own dynamics, trends, and successful strategies.
---
---
· PTIS consultation: If are a CPA member and want to better understand your company's packaging needs and sustainability opportunities, be sure to check out the complimentary PTIS consultation benefit exclusive to CPA members. Each member company of CPA receives a complimentary half-hour session with a principal of PTIS who can help you understand your packaging materials, containers, packaging systems, and sustainability needs to support current and new customer needs. PTIS can also help CPA members understand how to work more effectively across the packaging value chain.

· CPA and YRC Freight: CPA has partnered with YRC Freight to offer CPA members discounts on freight services. YRC's dedicated Time Critical service with customer-defined delivery dates and times ensures shipments move through their fastest network and are handled by a dedicated team from start to finish. When projects are complicated by short timelines, Time Critical provides a customer guarantee and the proactive notifications needed for customers to feel secure in their shipments. YRC offers fast, flexible solutions to fit customers' business needs—from just-in-time inventory strategies to ensuring port arrivals to meet sailing schedules.
· CPA and Packaging Prosperity: Looking back, how prepared and successful was your organization at adapting and thriving through the changes of 2020? Was keeping up with customer demand a challenge? More importantly, how is your team going to improve quality, productivity, and skills so your organization can really thrive? CPA members can receive special pricing on Packaging Prosperity, an interactive virtual workshop specifically designed for leadership teams interested in growing and prospering in today's highly competitive landscape.
· CPA and Nulogy University: CPA's recent partnership with Nulogy, a leading provider of agile supply chain solutions, grants CPA members complimentary access to the educational resources of Nulogy University, a proprietary online training platform for CP/CM businesses. CPA members who participate in the Nulogy University Program will receive comprehensive training, reporting tools, customized instruction, and more.
Interested in these exclusive CPA member benefits? Learn more about them here.
---
PACK EXPO Las Vegas and Healthcare Packaging EXPO (Sept. 27-29, Las Vegas Convention Center) will reunite the packaging and processing community. With over 1400 exhibitors, no other event in 2021 will bring together a more comprehensive gathering of suppliers offering new products, technologies, and solutions. Attendee registration is now open.