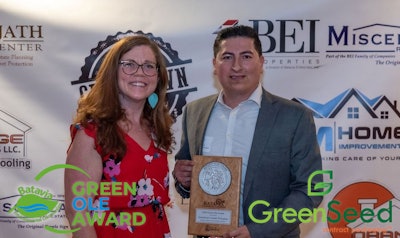 Katie O'Brien
According to CEO David Gray, GreenSeed was created with the outlook that there was opportunity for co-packers/co-manufacturers to bring more value to the supply chain by being a more strategic and consultative partner that could collaborate on corporate-level initiatives such as environmental sustainability. Using this approach, GreenSeed strives to make positive impacts on sustainability, in collaboration with other mission-driven organizations through R&D, innovation, packaging strategies, and supply chain management.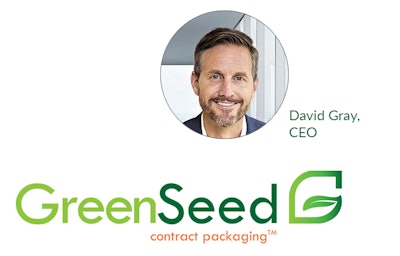 Since GreenSeed caters to both domestic and international business, a global perspective was important for the company's business model. Said Gray, "We had to have not just a U.S. mindset, but we also had to understand how to think globally to support our clients with the understanding of what it was like to live in their shoes. We really have sought to be a growth company where the focus is around the people side of it, the culture."
Gray said the company's approach was to be innovative in the way it thought: "For us, it was how we were going to change the way that we went to market as a contract packaging organization; we were going to be different. We were going to be innovative, focused, and we were going to be thinking not just about today, but where we needed to be in the future to really be true partners with our clients. That's why we aligned ourselves to an environmental sustainability focus."
GreenSeed's work with Danone's brands, in partnership with Danone's corporate vision to make an impact in the communities where its business is being carried out, is what attracted the attention of the local Batavia government. When GreenSeed began working with Danone, they were able to reduce the packaging size across a portfolio of brand products, thereby reducing the coverage footprint of the brand. Danone then approached GreenSeed to ask them to get involved with a local initiative that would use GreenSeed as an incubator to bring in cleaner energy to the surrounding area. Gray said partnerships like these, where companies can come together and help each other meet corporate initiatives that solve global issues like environmental sustainability are what we are trying to find more of.
---
---
GreenSeed's efforts have also enabled them to partner with other organizations, non-profits, and companies that are testing R&D on film structures to further progress initiatives for sustainable solutions. The films must then be tested on machinery – often with product – to test and understand film stability.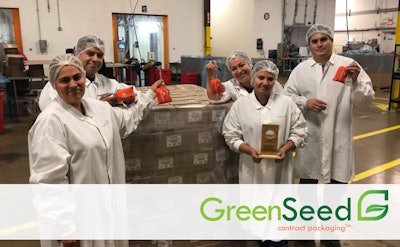 Working with the Climate Collaborative's OSC2 and the consulting group Rain Child Designs out of Colorado, GreenSeed is working on the ideation and testing of compostable film used for packaging, that can be shared with other organizations to advance the process of "what's working and what's not working and what needs to be done differently," said Gray. The process is still in the early stages, and as Gray said, "We're gathering some momentum, but we don't have the solutions at this point."
Impact of COVID and Future Growth
Some CPG brands in the food and supplement industries experienced tremendous growth during the pandemic, and overall demand for CPG products is expected to remain elevated, according to a new report from the Consumer Brands Association. Also, CP/CM is projected to increase at a 15% compound annual growth rate over the next five years. "All of this growth is great news, but it also comes with labor shortage challenges, the battle for the lowest cost, the race to the bottom line at the retail level because of inflation, and the need to invest in better technology such as robotics and AI in order to support all of this," said Gray. "Future growth for us will be about finding strategic partners, CPGs and other supply chain vendors that value some of the same key areas we do, such as sustainability, innovation, and collaboration. Together, we can make a lasting impact on environmental sustainability."
---
PACK EXPO Las Vegas and Healthcare Packaging EXPO (Sept. 27-29, Las Vegas Convention Center) will reunite the packaging and processing community. With over 1400 exhibitors, no other event in 2021 will bring together a more comprehensive gathering of suppliers offering new products, technologies and solutions. Attendee registration is now open.

Companies in this article