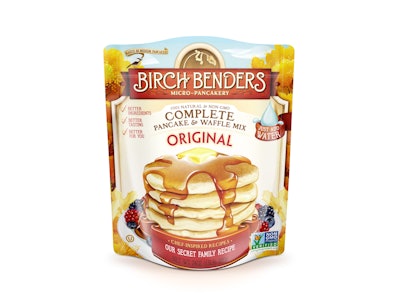 Birch Benders Micro-Pancakery of Denver is highly successful at what it does: developing and marketing healthy, tasty pancake mixes with clean ingredients that are a snap to make. Since husband and wife team Matt LaCasse and Lizzi Ackerman co-founded the company in mid-2011, their line of just-add-water pancake mixes made from 100% natural and non-GMO ingredients has grown to 15 varieties and is sold in more than 6,000 grocery stores nationwide.
What LaCasse and Ackerman have never aspired to, however, is becoming experts at manufacturing and packaging their products. "We think we're very good at making recipes, branding, and marketing and sales," says LaCasse, "The Pancake Man" and CEO. "We never even considered manufacturing the product ourselves. That was off the table from the very beginning. We wanted a co-packer.'"
But when the pair started out, finding a co-packer willing to take on a fledgling business with very short runs was a challenge. Birch Benders' mixes were also originally sold in glass jars, which made their packaging needs a bit more complex. "Most co-packers don't want to work with teeny tiny companies that want to make a thousand units," says Ackerman, whose title is Dr. Pancake, a.k.a. Chief Marketing Officer. "Most people literally laughed at us."
One co-packer that didn't laugh at them, though, was Bell-Carter Packaging. The Modesto, CA-based company welcomed Birch Benders' business, partnering with them and adapting over the years to accommodate the micro-pancakery's growing business to the point where Bell-Carter is now producing millions of units per year for them.
"It took a couple of years for our business to get to the point where it really started to take off," says Ackerman. "But Bell-Carter was very patient with us. They were able to go from very little to a lot and to scale with us. We appreciate and value them as partners for their willingness to believe in us and grow with us."
Learning to grow
Birch Benders came about from the desire of Ackerman and LaCasse to give consumers an easy way to prepare pancakes that were also healthy and delicious.
"There really hadn't been any innovation in the pancake category since the seventies," says LaCasse. "If you look at the big players, many of them have, for lack of a better word, crumbly ingredients. They also use partially hydrogenated oils in their products. But then if you look at the natural pancake mixes, there were a couple back then, but none of them had the just-add-water convenience or the really fun flavor profiles we wanted to offer." (Birch Benders' unique and delectable varieties include such flavors as Sweet Potato, Gingerbread Spice, and Double Chocolate Peppermint, among others.)
Ackerman and LaCasse started out small, doing demos and selling their products at local stores. As LaCasse notes, while they were there to move product, the real benefit that came from their year-and-a-half experience selling in these stores was the knowledge they gained from consumers about the product, the brand, and the industry. Birch Benders then used these insights to improve upon their packaging.
"We always had a really good product," says Ackerman. "But packaging is so very important to any brand, and if you are a small brand, your packaging is going to be a big part of your marketing budget. So, we knew we needed to spend a lot of time on it."
It was during this startup phase that Birch Benders also began working with Bell-Carter. Initially, they had used a local co-packer for a very small run, but this option was far too expensive to be a long-term solution. Birch Benders connected with Bell-Carter when Mike Repp, the co-packer's Vice President – General Manager, responded to their inquiry on the Contract Packaging Association's online Request for Quote Tool. "Mike was willing to listen and to give us a shot, and that's really amazing, considering how tiny we were," Ackerman says.
Bell-Carter worked with Birch Benders "back in the jar days," says Ackerman, and then helped them transition to a stand-up pouch format. From trialing their product, Ackerman and LaCasse realized there was a reason companies didn't sell pancake mixes in jars: the cost—and not just for the packaging components, but also for shipping. The pouch offered a less expensive option and would also stand out on shelf amidst the mostly bag-in-box formats used in the pancake mix category. They also liked the idea of having a package that was resealable, which would allow consumers the option of using some of the product, and storing the rest for later.
When Birch Benders set out to design the new packaging, Bell-Carter gave them the parameters of what they were able to work with. Birch Benders then developed the pouch in cooperation with film converter Innovative Packaging Solutions, Inc. It is made of a multilayer film construction of PET and linear low-density polyethylene, and features a rounded edge on top. For pouch graphics, Birch Benders worked with global design agency Moxie Sozo, which produced colorful, detailed, Mary Engelbreit-like illustrations for each mix variety.
Birch Benders launched the new pouch packaging and a new pricing strategy at an industry trade show in 2014. "Before the show, we were in around 20 to 40 stores locally in Colorado, and after that, it just exploded. We got a ton of consumer traction," recalls LaCasse. "The price point was right, the packaging was right, the products were right. And it's just been expanding like crazy ever since."
A perfect fit
In the pancake mix category, one area where Birch Benders differentiates itself is by its use of 100% natural, organic, and non-GMO ingredients. The company also offers gluten-free and paleo options. When looking for a contract packager, another challenge was finding one that had the required certifications to handle their products. "That certainly narrowed the search down quite a bit," says LaCasse.
Bell-Carter was one co-packer that had the certifications Birch Benders was looking for. And, as Birch Benders introduced new products, Ackerman says Bell-Carter was willing to get additional certifications as needed. According to Repp, Bell-Carter is CCOF Organic Certified, OU Kosher certified, Gluten-Free certified, and Non-GMO Project Verified, and has been audited by NSF and AIB International.
Other things Ackerman and LaCasse say they were looking for in a co-packer were a long-term partnership, transparency, trust, scalability, and "scrappiness," which Ackerman describes as the ability to understand how a small business works. "As a small company, there were a lot of times when we had to say, 'Hey Mike, we just got into Whole Foods in these regions, and we need you to produce these products really, really fast,'" she says. "At Bell-Carter, it's been a beautiful thing, because they are a big company that can also understand the entrepreneurial side of things."
Ackerman and LaCasse say they were also looking for a co-packer that demonstrated accountability, especially in a situation where there may be a recall. "With food products, there are manufacturer errors; there are recalls. This happens," says LaCasse. "Having everyone take responsibility for that together is really important, instead of all the blame going to the manufacturer."
"We saw immediately that Bell-Carter cared about our brand," says Ackerman. "They treated it as if it was their own, because they are partners in it too."
Profitable partnership
When Birch Benders began working with Bell-Carter, Birch Benders supplied the product ingredients and packaging materials to Bell-Carter for blending, packaging, and fulfillment. Recently, they moved to a turnkey model, with Birch Benders specifying the ingredients and materials, and Bell-Carter doing the procurement. A third-party logistics company now handles warehousing of finished product and distribution
"From a small-business perspective, it's a very capital-intensive industry to be in just with holding inventory and having payment terms with all of the retailers and distributors," says LaCasse. "Anything we can do to free up cash flow is advantageous."
Predicting how much product will be needed is not an exact science, so making sure Bell-Carter has enough inventory on hand and can turn their products around quickly depends on constant communication, he adds.
Birch Benders' pancake mixes, now sent from Bell-Carter in truckloads to the third-party warehousing company, are currently sold nationwide at chains that include Whole Foods Market, Safeway, Sprouts, Target, and others. That remarkable growth, Ackerman and LaCasse say, was greatly facilitated by its partnership with Bell-Carter and by the co-packing model in general. "If you're a small entrepreneur who's just starting out, there are so many things to learn, so we are huge proponents of the contract manufacturing model," says LaCasse. "Bell-Carter has been a partner really since day one, going out on a limb with us and taking a chance, and believing."
Says Bell-Carter's Repp, "Birch Benders has been a phenomenal customer. They were one of those customers who came to us and said, 'Hey, we're doing this in our apartment, and we think it's starting to explode. We don't know what to do,' and we told them we'd be happy to help them. At the beginning, we'd run 200 of each item for them, and now we're shipping truckloads of product each week. They have truly become the fastest-growing pancake mix in the marketplace nationwide."
Bell-Carter provides complete turnkey solution
As Birch Benders co-founder Lizzi Ackerman notes, in their search for a co-packer, she and co-founder Matt LaCasse were looking for a company with some "scrappiness," which she describes as the ability to understand the needs of a small business. Perhaps Bell-Carter Packaging's kinship with small businesses comes from its own experience growing from the ground up.
Bell-Carter Packaging was launched in 1987 in Modesto, CA, as an arm of Bell-Carter Foods, which produces the Lindsay brand of olives as well as private-label and foodservice olive products. The company began the packaging business to serve retail customers who were looking for a way to promote their olive products through secondary packaging, such as POP displays. From there, Bell-Carter Packaging began taking on other customers looking for help with their secondary packaging needs—"someone needs 200 nails put into a smaller box, things like that," explains Mike Repp, Vice President – General Manager of Bell-Carter Packaging. "It just kind of evolved from there."
Nearly 20 years ago, Bell-Carter began doing work for two large food manufacturers—one in the snack business, and one in confectionery—that are still major customers today for secondary packaging services. In fact, Bell-Carter operates a facility in Phoenix and one in Portland, which were originally opened to handle just the needs of its snack-food customer. Among the secondary packaging it provides for its snack and other customers are pallet displays and multipacks in bags, cartons, and trays, driven by various market segments, such as club store, grocery, and convenience.
Seven years ago, Bell-Carter moved into a 268,000-sq-ft facility in Modesto that, depending on the season, employs anywhere from 200 to 350 employees handling both primary and secondary packaging. Bell-Carter began filling primary packaging, mainly flexible pouches, six years ago for food products when an e-commerce subscription-box snack-food startup approached them about their services. "That's where I think contract packagers are really unique: Something new walks through the door, and you make a decision on whether or not to pursue it," says Repp. "Does it make sense with the strategy you've got in place? So that's what moved us right into open food and flexible packaging."
Bell-Carter's facility houses a mix of dedicated lines, most of them for large, secondary packaging customers, and more flexible lines for primary food packaging. When it comes to purchasing equipment for these lines, Repp says the first thing Bell-Carter looks for is whether they can find used machines to control costs.
Other things they look for are mobility and versatility. "We would probably take an older piece of equipment and modify it so we can move it quickly to different places rather than making it a permanent fixture," says Repp. "Unless you've landed a large account where something can truly be dedicated, you want to consider whether a machine can be used for other types of products. For example, instead of just doing sugar, can I use the same machine to fill granola? We definitely want to be able to package a wide range of products on the same machine to gain efficiencies."
Sixty percent of flexible packaging at Bell-Carter is filled using semi-automated equipment, including auger fillers from Spee-Dee Packaging Machinery, Inc. for powder and granular products, and net weigh fillers from Dura-Pack for larger products, such as nuts, granola, and trail mixes. The other 40% are filled manually with products such as pretzels or dried fruit that can jam filling equipment. The company fills an average of 1 million pouches per month.
As Bell-Carter has grown, it has evolved from a service provider to a complete turnkey solution for its customers. It offers package design services, procures packaging materials such as pouches and labels, as well as ingredients, blends the ingredients, packages the product, and provides warehousing and fulfillment.
Another service Bell-Carter has begun offering is e-commerce fulfillment, particularly for the subscription box company that first got them into flexible pouch filling. Bell-Carter packages and maintains up to 135 SKUs for the company, sending out an average 5,000 orders a day to the brand's e-commerce customers. When the subscription-box company started, all of its boxes contained the same five products. Today, consumers can customize their boxes, which hold from seven to 20 pouches, depending on the box size. Bell-Carter picks and packs each order, according to the e-commerce customer's requirements.
"We now look at ourselves as more of a partner with the brand owner," says Repp. "We're providing the procurement services to buy the materials, we're bringing those materials in house, and we're storing them. We're making the product based on inventory and product frequency or flow. We're putting that into stock, and then we're shipping it wherever the brand owner needs it to go from a fulfillment standpoint.
"We've adapted to support our customers so they can truly be sales- and marketing-focused, and know that we've got the entire back end. It takes away so many headaches for our customers operationally and lets them focus on their business."
Companies in this article