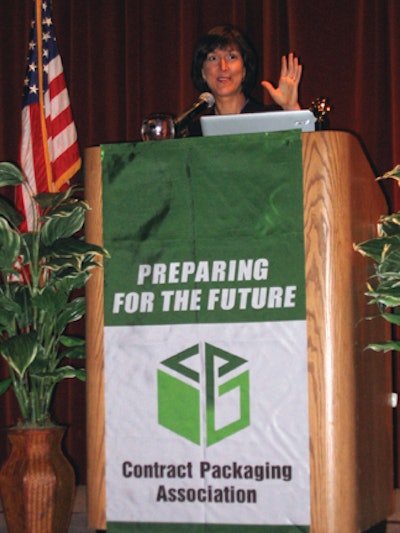 Lisa Shambro spends a lot of time analyzing the supply chain relationship between product manufacturers and their contract manufacturers and secondary packagers. Shambro, executive director of the Foundation for Strategic Sourcing, has come to the conclusion that two fundamental problems are preventing the optimization of relationships between consumer product companies and their service providers.
In her presentation opening the Contract Packaging Association's annual meeting Feb. 19 in Naples, FL, Shambro said that:
• Product manufacturers often are not communicating internally about the full value of outsourcing services beyond matters of price.
The service providers too often are doing an inadequate job of explaining the breadth and value of their services beyond price.
• Both the manufacturers' and service providers' approaches need to change, Shambro explained, because the industry is continuing to move rapidly from a traditional make/pack/ship operation to service offerings that provide a far more integrated approach both upstream and downstream of traditional manufacturing and packaging. The gap is widening between the least capable and most capable service providers, she added, with implications that need to be weighed carefully as the relationship between product manufacturer and service provider evolves from short-term, tactical operations to long-term, strategic partnerships.
Trend toward strategic partnerships
"What we're seeing now is divergence," Shambro said. "There is a trend brewing in this industry. I would describe us as being somewhere in the middle between tactical and strategic, but now we're starting to see a significant move toward strategic is upon us."
Shambro issued some key points that contract manufacturers and packagers should focus on to better serve their customers. These typically are requirements of major product manufacturers, and they can provide some guidance for smaller consumer product companies on developing expectations for their manufacturing and packaging service providers.
• They demand innovation.
• They expect a broad range of supply chain services.
• They require project-management capability.
• They insist upon continuous improvement in services and capabilities.
But within that framework exists many opportunities for users and providers of contract packaging services alike to maximize the value of the supply chain. Sustainability is one case in point. It is becoming increasingly important across the contract packaging spectrum as more co-packers offer package design services. Likewise, as packers take responsibility for far more than merely filling packages and delivering them to their destination, they are immersing themselves in issues of packaging's impact on the environment.
Sustainability issues
Ronald Cotterman, executive director, sustainability, Sealed Air, explained that "it's very important to differentiate between features and benefits in packaging. You can talk all you want about features, but without benefits, features are not sustainable."
Cotterman outlined a three-point strategy for optimizing packaging for the environment.
• Begin discussions about sustainability implications at the time when design ideas begin to take shape. Where can you prevent package waste (in both materials and operations)?
• Use life-cycle management tools to develop new products and introduce them as part of the review for existing products to balance marketing and environmental-impact considerations.
• Keep both customers and consumers informed of all environmental attributes of the project.
Cotterman recommended segmenting package developments into three buckets—internal operations, products and services, and value chain integration—to create opportunities that bridge sustainability initiatives and package-innovation efforts.
His thoughts were echoed by K. Donald Tham, president and co-founder of Nulogy Corp. and professor and industrial internship co-coordinator in the Department of Mechanical and Industrial Engineering at Ryerson University. Tham explained that consumer packaged goods (CPG) companies are feeling pressure from retailers and consumers to reduce waste. In turn, CPG companies are turning to contract packagers and other vendors to assist them in developing solutions.
Tham said CPG companies today are operating with the primary goals of lowering costs by outsourcing, increasing product turnover across the supply chain through improved collaboration with their supply chain, and managing and mitigating risk.
Get 'leaning'
An approach that Tham describes as "leaning" is one option for both CPG companies and their contract packagers to not just survive current economic times but also to leverage them into potential growth opportunities by using more effective leadership rather than more resources. Leaning, he said, encompasses efficiency best practices, from posting standard plant-floor procedures and taking temporary measures to solve immediate issues, to appointing leaders who can objectively assess where and how improvements are needed. Such attention to detail can help assure the right actions consistently are executed in the right way, Tham explained.
Leaning's guiding principle, Tham said, is that "if it doesn't add value from your customer's perspective, it is waste."
To which Lisa Bodell, CEO of futurethink, added that it is quite possible to innovate with restricted resources in situations where there is a high aversion to risk in the CPG company-contract packager relationship. Bodell suggested five steps for producing winning results.
• Create enhancements that improve or alter what already exists. Incremental advances can be as equally effective as breakthroughs.
• Explore new relationships to mitigate risk and expenses. New possibilities could include seemingly unlikely partners if you dig beyond the obvious to find synergies outside of your comfort zone.
• Streamline operations internally to find new efficiencies. Hewlett-Packard, for example, cut 1,240 active projects to 700 after members of various internal teams tackling pending projects challenged themselves by answering four questions: How much risk remains? What is the cost of the next round of tests? How much learning will those tests provide? What is the upside potential of the opportunity?
• Seek customer-driven innovation. Bodell suggested looking for inspiration in ideas such as IBM's Innovation Jam, an open-knowledge forum. The 2008 version drew more than 150,000 participants from 67 companies in 104 countries, and the results led to 10 new IBM businesses and $100 million in new investment.
• Develop new business models. How can you stretch your mind and get your customers to think of your product or service in a new way to create additional purchase opportunities? Bodell concluded by saying, "Don't think in a straight line. Think along a winding road. People who think along a winding road will be the best prepared for the future."