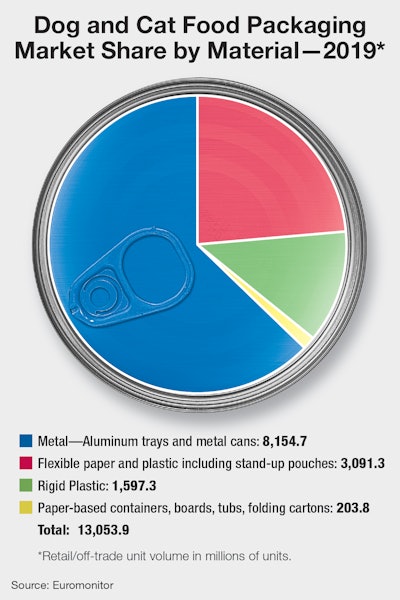 The global pet food market surpassed $94.6 billion in 2019. The U.S. leads the world in pet food sales as pet owners around the world seek fresher, healthier and ethically produced ingredients—the same as they expect for themselves.
According to a new report from PMMI Business Intelligence, "Trends and Drivers Impacting the Pet Food Industry," this trend to "humanize" our pets has been going on for some time, and can require changes in processing--more slowly to preserve textural integrity, at lower temperatures to preserve nutritional value, with more exotic ingredients, with a continued shift of packaging towards pouches to prevent the deterioration of nutrients through oxidation.
This change will result in an increase demand for fillers, FFS, and other pouch compatible primary packaging equipment.
The pet food market is broken up into four main food groups:
Dry Food (Kibble)
Wet Food (Pate', Minced and Shredded, Gravies and Chunks, Morsels and Cubed)
Treats and Snacks (Biscuits, Soft Chews, Jerky, Chews and Bones)
Nutraceuticals (Vitamins and Minerals, Dietary, Enzymes, Probiotics)
A premium category exists for each of the food groups, offering grain-free, non-GMO, Organic and Essential Nutrients, often in flexible pouches to deliver freshness. Certainly, heavy-weight bulk bags and canned foods (for both dogs and cats) are still popular formats.
Treats and snacks are the fastest growing segment of the pet food market, according to PMMI Business Intelligence. With a CAGR of 6.3% through 2024, market share will come primarily from wet and dry food although these two segments, historically strong, are not expected to lose significant market share.
Pet food processor gets fresh automation make-over | ProFood World
On the nutraceutical front, there is a lot of excitement for CBD products. According to the report, CBD still has not found its way into mainstream pet food suppliers' menu offerings due to hesitation over regulations that would penalize CPGs CBD products would require dedicated production and packaging lines, which presents an opportunity for OEMs to capitalize on the growth in equipment demand whenever CBD adoption becomes mainstream.
Freshpet Building Pet Food Manufacturing Plant
North America is expected to hold its lock on 39 percent of the global pet food market through 2024. Africa, with only five percent of the current market, will see compound annual growth rate in sales of 14 percent, and could overtake Europe, which will only grow at four percent.
PMMI members can download the entire report for free. Non-members have the option of downloading a FREE Executive Summary below.