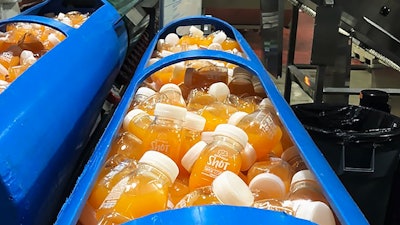 Not every emerging brand is a new company. But taking a successful product from another part of the world and launching into the U.S. market does not guarantee a winner. First reported in Packaging World in April 2019, Sofresco is already known in many parts of the world as a producer of natural juices that uses only natural ingredients in their products.
Flavors including avocado juice with apple and pear, carrot and ginger, or mango juice with apple and banana. Each offering is non-GMO and BPA-free in PET bottles that contain no water, sugar or preservatives. Sofresco also offers wellness shots.
These fresh ingredients, once cold-pressed and packaged, must undergo high pressure processing within 24 hours, which inactivates harmful foodborne bacteria and impurities without heat, extending shelf life 60-90 days while maintaining nutrition and flavor.
This step in the supply chain, where the fresh juice maker teams up with a high-pressure processor after production and packaging but before distribution, was already in place in Portugal. These products, produced solely in Portugal, are marketed in 24 countries on five continents as Sonatural.
Similar to its production facility in Portugal that is located within the walls of a high-pressure process plant, Sofresco sought out another strategic relationship in North America that other brands and suppliers could envy.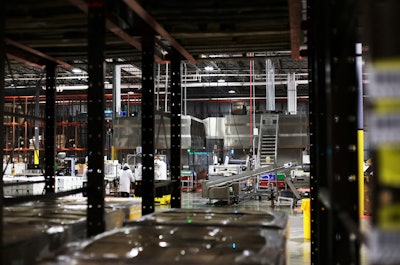 The Portuguese fresh juice maker, launched in the U.S. as Sofresco, teamed up with Universal Pure, the nation's largest provider of high-pressure processing and other cold chain services headquartered in Villa Rica, Ga. Universal Pure has additional facilities in Lincoln, Neb., Coppell, Texas, Malvern, Pa., and Meriden, Conn.
The Malvern location had available space, so in a highly creative move, Universal Pure not only contracted to high pressure process the fresh juice, they also provided a co-located space for the Portuguese company to call home in the U.S.
Talking to Diogo Gilman, Good Crop, Inc., who produces Sofresco, and Tom Woodward, Chief Commercial Officer of Universal Pure, you can tell the partnership is mutually beneficial and transparent. Good Crop also offers fruit and vegetable smoothies and soups in addition to the Sofresco juice brand.
Sofresco production is located right inside the Universal Pure facility in what Gilman fondly refers to as "the box." And Universal Pure serves other clients but co-hosts no other brands within its facilities.
Woodward, a newer member of the Universal Pure team, traveled extensively throughout Europe and Asia and was very familiar with the juice brand before joining Universal Pure.
"Universal Pure had the facility for several years. About a year and a half ago we learned Sofresco wanted to start producing here in the U.S.," says Woodward.
"There was never a plan to co-host a partner," continues Woodward. "But as the relationship developed, it became clear that a co-host partnership made sense. I'm delighted to see how this relationship has sprouted. We take a lot of pride in offering healthy products. Sofresco has a unique and premium brand proposition."
The partnership has been positive for both companies and the local economy. Combined the two companies are responsible for over 20 new jobs in Chester County, Pa.
The Universal Pure/Sofresco partnership was not the biggest hurdle for this emerging brand. Gilman explains, "The U.S. is so much larger than Portugal. Sourcing only fresh ingredients, one of our core promises, was our biggest challenge. One person was on the road constantly looking for suppliers.
"But as with anything else worthwhile," Gilman continues, "there are challenges, and this partnership works well together to bring these great, healthy products to market. Both companies are confident in the future success of this partnership."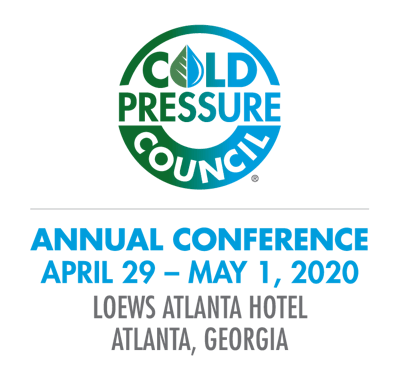 Registration Is now open for The 2020 CPC Annual Conference at the Loews Atlanta Hotel in Atlanta from April 29 - May 1, 2020.
This marks the third CPC Annual Conference and will deliver the latest commercial and technical information for your HPP business; topics like best practices, market trends, and global involvement will be main subjects of discussion.
There will also be international networking opportunities and an optional pre-conference bonus session that will cover all things HPP. Attend the conference to participate in the following:
· A Universal Pure facility tour to kick off the conference
· A pre-conference bonus session covering all things HPP
· Insights from North America, Europe, and Asia Pacific
· Networking opportunities with other HPP executives
· Taste testing great HPP products
· Connect at an Early Arrivals reception
Companies in this article