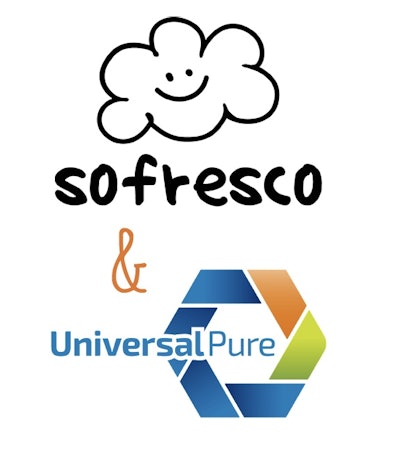 Sofresco has partnered with Universal Pure's Malvern, Pa., facility to manufacture and high pressure process (HPP) juices in the U.S., the company announced today.
Sofresco is the U.S. brand of Portuguese juice company Sonatural, which is sold in 24 countries and five continents in major retailers and food service chains like Pret a Manger, Aldi and Carrefour. The brand is known for its innovative HPP juices and wellness shots in Europe and Asia.
In the U.S., Sofresco juices are currently available in some Publix and Lidl grocery stores and next month are scheduled to be sold in Walmart nationwide, with continued expansion in Publix and Lidl. On April 1 the company began producing its juices from Malvern for the U.S., and it will begin production for Mexico, Costa Rica, and Panama beginning in May.
Douglas Gilman, co-owner of Sofresco, said, "We are excited about the partnership between Sofresco and Universal Pure, as they are the No. 1 HPP service provider in the U.S. and we are the No. 1 HPP juice brand in Europe. This synergistic partnership brings together our knowledge of fresh juices in Europe and their knowledge and expertise of HPP. We are thrilled to bring these two strengths together in the U.S."
Mark Duffy, CEO, Universal Pure, noted, "The partnership between Sofresco and Universal Pure marks a significant milestone in bringing healthier, fresher and safer juice products to the U.S. market using HPP. HPP is fast becoming the food safety method of choice for its ability to inactivate harmful foodborne-bacteria and impurities, extend shelf life and maintain nutrition and flavor. As the leading third-party service provider of HPP in North America, we stand ready to help companies like Sofresco provide great-tasting food and beverages to consumers."
To celebrate the partnership, Sofresco will hold a grand opening event at the Malvern location on Friday, April 5, offering facility tours and juice tastings, including some of its newest products that will be introduced in the second half of the year.
Sonatural is known as a natural juice brand that only uses fresh ingredients in their products. The brand uses HPP to remove microorganisms while maintaining natural nutrition and flavor.
The Sonatural brand in the U.S. will be called Sofresco and, continuing with that same European success will source produce from local famers and cooperatives from Pennsylvania and neighboring states for its juices at the Malvern production facility.
The company plans to hire 15-20 employees locally for highly skilled management and factory jobs.
Sofresco's Malvern facility is designed so that juice is pressed and HPP'd within 24 hours and at 30 degrees, locking in premium taste, texture and nutrition. There are no added preservatives, sugar or water.
Sofresco's juices that will be produced in Malvern include avocado juice with apple and pear; beet juice with apple, carrot and ginger; ginger and apple juice with basil; mango juice with apple and banana; and apple and lemon juice with mint. All the juices are HPP'd, under 70 calories, non-GMO, and come BPA-free in 12 oz bottles at U.S. $3.99 SRP.
Sofresco's wellness shots include Purifying Charcoal; Turmeric & Cayenne; and Ginger. The shots are HPP'd, under 70 calories, non-GMO and BPA-free in 3.7 oz bottles at U.S. $2.99 SRP.
Gilman said he chose HPP as it's the only process that allows companies to produce homemade-type juices without using heat, which destroys bacteria but doesn't keep the fresh fruit qualities intact.
"HPP is the only technology that maintains all the properties of fresh fruit, replicating a juice made from home," Gilman said. "HPP inactivates the bacteria in a product, without heat, making it safe to drink, while at the same time extending its shelf life 60-90 days."
About Sofresco
Because of brand registration constraints, for the US and Canada, Sonatural will be named Sofresco, but all the truth and goodness remain unchanged.
About Sonatural
Sonatural's history is an undoubtedly juicy one. Sonatural's success today, being the #1 fresh juice brand in Europe, results from choosing to only work with the freshest ingredients, using systems and techniques that maintain the integrity and unique flavors and qualities of each ingredient. Sonatural treats fruits and vegetables with care, using HPP to remove all of the microorganisms and impurities while maintaining all of the natural nutrition and flavor. Sonatural does not add preservatives, sugar or water. Drinks are 100% juice, natural, and are the most delicious and original juices in the market. From the fruits and vegetables from the ground to your bottle, Sonatural promises that your juice will always be 'so natural.' What the earth gives, is what Sonatural gives to the consumer. For more information, visit for https://www.sonatural.pt/en/
About Universal Pure
Headquartered in Villa Rica, Ga., Universal Pure, LLC is focused on helping companies make and serve refrigerated foods and beverages that are fresh, healthy, delicious, and most importantly, safe. As a customer-centric service provider of high pressure processing (HPP), Universal Pure's four U.S. locations (Villa Rica, Ga.; Lincoln, Neb.; Malvern, Pa.; and Coppell, Texas) and 11 HPP machines in operation make it the nation's largest third-party provider of HPP services.
Companies also outsource with Universal Pure for its other value-added services like cold storage, meal kitting, pre-pricing, code dating and inventory control. Additionally, companies leverage Universal Pure's technical, quality assurance, engineering and cold-chain management resources to help them achieve their business goals by producing fresh, natural, organic, cleaner-label and safe products.Universal Pure is purely driven to always look ahead to advance the safety and quality of what we eat and drink.
Companies in this article