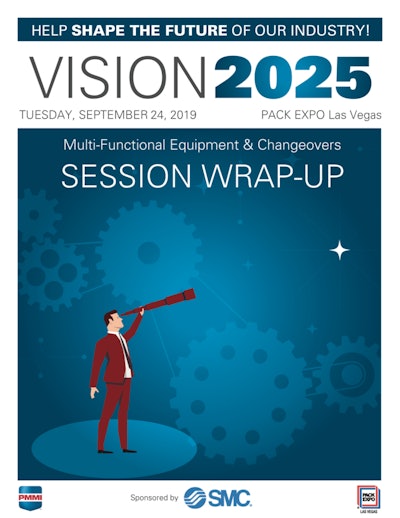 CPGs called for OEMs to build partnerships beyond the transaction, requesting that machinery manufacturers get involved early in the process of equipment selection, training and installation.
Certainly, the processing and packaging market is undergoing massive, disruptive change. Retailers driving differentiation, e-commerce and the proliferation of SKUs are dragging plant efficiency down and stressing the entire supply chain.
A major CPG said, "Our conversations with an OEM always started with speed and reliability. Now we are starting with agility, flexibility, formats and sizes."
He added, "it's all about the partnership now." The business unit tells us what they want, and often the OEM comes back and says, here's something else we can do. And many times, we deliver a different solution the business team did not know was possible.
A co-manufacturer added, "I can't emphasize enough, when you buy a piece of equipment you are married to that OEM for five, ten, fifteen years."
Asset Reliability key takeaway: While data is key, changing company culture is biggest challenge.
"We are data rich and information poor," said one panelist from a controls company. Most participants agreed, saying the resources to have people dedicated to gathering and analyzing the data often fall prey to "we need to get this done, now." Indeed, keeping the asset reliability process top of mind is a challenge. You tend to become great at putting out fires, agreed the group, but a long-term culture change is harder to establish.
A contract packager/manufacturer, stressed that improving efficiency at first might be easy—moving from 30% to 60% is not that complicated. But moving from 85% to 87% efficiency is not easy.
CPGs recognize that OEMs are in business to sell equipment, but they should take notice when a CPG is reordering a particular part more often than expected, and they should reach out to the CPG to see if a change needs to be made to equipment design.
CPGs requested of OEMs more inclusive warranties, short training videos, and recognizing that operability, maintainability and reliability should be a focus from day one of any project.
Writing Better Requests for Proposal Key Takeaway: Group polling strongly voted the number-one challenge is the need for clarity up front. Solutions include identifying key stakeholders throughout the process and as well as setting key milestones and meeting with clear expectations.
A COO of a fast-growing brand talked about moving from the old days of "handshake" deals to formal written proposals making sure the company has the right specs. "We now have to make sure OEMs really understand what we want. And when we arrive at a vendor of choice, it gets even more detailed with food safety considerations and line operation from a '24-hour use standpoint.'" He added, "We now have lines that will potentially start up and run for 21 days straight."
A West Coast OEM offered a machine maker's perspective. "My team sees 200-300 RFPs in a year ranging from a one-page e-mail to a 400-page document."
Special requests add to cost, of course. RFPs stretch from base machines versus, "What you are asking from us may cost extra time and money."
Some customers come back and say, that is actually not really that important to us, let's cross that off the list.
All agreed an initial kick-off meeting with all pertinent stakeholders is critical for success. This is the time for that "aha!" moment, and not during the FAT.
Meet earlier and more often. The sooner any confusion is cleared up, the better, said on CPG. "You hate to be at a FAT and have to say, 'I thought we said we needed a washdown motor here.'"
And internal communications are critical as well, one OEM added. "A few years ago we were struggling with lack of dialogue between sales and engineering, so we set up a 'cradle to grave' project management team once we have the order," to provide continuity throughout the process.
From the CPG end, getting corporate and the plant together is important too. Corporate knows how something should be done, but the plant may have a more realistic view of what can be done.
And corporate has to understand the system that will support the new machine or line. Where is the power or air going to come from? How will it affect footprint? And where and when do safety and sanitation sign off on the impact of the project? Facilitator Steve Perry stressed it is critical to find the disconnects between corporate and the plant.
A pre-factory acceptance test is a good idea too. One OEM said you could send a few people out a few weeks in advance of the FAT so you can address any issues. "The actual FAT may only be a few days before shipping deadlines, and we don't want to get a long laundry list of things we have to adjust."
Obsolescence was another major issue, particularly with automation components, something even the OEM might not be aware of. It's frustrating for a CPG to order a replacement component only to find out that it is no longer available. One participant said, "Boy I wish you had told me this would not be available in a year or two. Going on e-bay looking for a replacement part is embarrassing."
Multifunctional Equipment and Changeovers Key Takeaway: Audience polling indicated 37% said achieving repeatability/changeover set up is the number-one challenge.
Next came the challenge of operating high-tech equipment in a low-tech environment. (35%)
Suggestions for improvement in changeover included simplification of the changeover process (29%) and 24% indicated creating cross-functional reliability teams was a good way to tackle the problem.
We used to have core sizes and a few outliers, said one CPG, now all are different, changing how we run the factory and supply chain. With "customer differentiation" we are tweaking projects after the order starts, changing requirements in scope.
This CPG also stressed that, in the past, package size changes could be expected to last up to five years, now they expect the new size to last much shorter.
A large co-manufacturer agreed. "Our customers' expectations are much higher and their demands vary a lot. Many of our customers have as many as 30 SKUs and they want products to be fresh, not sitting in a warehouse. So, they are demanding short runs. There is a pressure for frequent changeover, sanitation pressures and tooling challenges."
He continued, "the right tooling and the right machine allowing multiple changes" is what we're after. "If you are not producing and the machine is idle, you are not making money."
Pressure comes up through the supply chain, and how is it affecting the OEM community? "It's what makes this business great," said a large OEM. "it's constant change but at a faster and faster rate."
This OEM also told the audience that vertical start-up is becoming more critical, and they are always looking for "what can we do to reduce changeover time, tool-less, color coding, electronic?' And the next step is 3D vision, Artificial Intelligence and machine learning. "Our goal is to build a system an operator can walk up to and know intuitively how to operate it."
Change parts are changing too. A CPG: "We know our new package size will last for a year, but we are buying change parts made to last 20 years. Can we go with a lower cost solution? Print that part? We have to look at change parts differently.