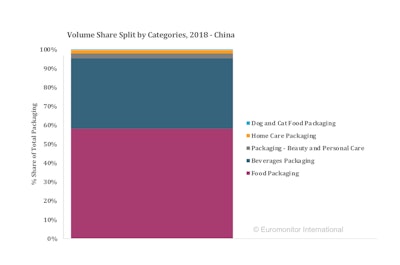 Much like other global regions, health/wellness and convenience trends are shaping the food packaging market in China. Consumers are interested in the material used for packaging, and its impact on their health and the environment. They also prefer food packaging pack types that highlight nutrition panels, allowing them to see the ingredients in the food they are purchasing.
As a result, front-of-pack labels are emerging as a way to make the nutrition components stand out and reveal the most prominent element on the front pack - particularly for dairy products. Dou Ben Dou, a newly launched soy milk from Dali, highlighted the protein content in gold with a large font size on the front of the pack of its pure soy milk product.
Environmentally friendly dairy packaging is also gaining popularity, and shaped liquid cartons are expected to remain the dominant pack types in yogurt and sour milk in China over the 2018 to 2023 period, as the novel pack design options available in this pack type promote product differentiation.
Flexible plastic continues to be the most dominant packaging format in the noodle category, due to cheaper cost and availability in variant sizes. Board tubes continue to do well due in instant noodles, and folding cartons have shown the highest growth due to manufacturers moving to an eco-friendly format.
Ecolean packaging, an innovation in plastic pouches, is also gaining popularity in China. Lightweight, eco-friendly, and conveniently shaped for portability, it has been adopted for fresh milk and chilled drinking yogurt products.
Bottled water total packaging in China is expected to post a CAGR of 6.0% by 2023, and convenience is influencing beverage packaging, driving the growth of PET bottles and flexible plastic. Platypus' new flexible SoftBottle is gaining popularity in the Chinese market, with a design that easily flattens and rolls up to save space and narrows at the middle making it easy to hold. These brands also have bottles that have a dual-locking cap and a 'designed hand' in the form of a clip, which can be easily hooked on to a belt or climbing harness.
Companies are also focusing on consumer experience via their packaging, and Nongfu Spring launched a bottled water featuring a smartphone AR code that lets consumers take pictures with popular music stars.
Source: "Global Packaging Trends," Compiled by Euromonitor International for the Packaging Machinery Manufacturers Institute (PMMI). PMMI Members can download the full report for FREE, here.
Australian Packaging & Processing Machinery Association (APPMA)
PMMI, The Association for Packaging and Processing Technologies
UCIMA, Italian Packaging Machinery Manufacturers Association
Symop, French Association for Manufacturing Technologies
Make plans to visit PACK EXPO East in Philadelphia, March 3-5, to see on-trend packaging machinery and materials.