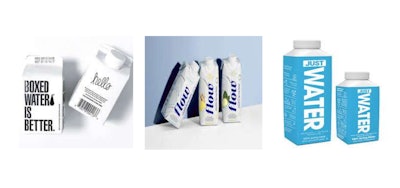 According to "Global Packaging Trends," a new report compiled by Euromonitor International for PMMI Business Intelligence, ready-to-drink tea is growing in demand as consumers look to carbonated, healthier-for-you, options such as kombucha. RTD tea packaging is expected to post a CAGR of 3.5% between 2018 and 2023. This demand for low-sugar options has also spurred bottled water sales, and though PET bottles dominate bottled water packaging with a 93% share in the region (and are expected to maintain that lead), environmental concerns regarding plastic use among North Americans have led several manufacturers to introduce rPET (recyclable PET). For instance, Nestle launched a 100% rPET bottle in the region for its Pure Life brand in early 2018.
Carton packaging has also gained ground in bottled water due to concerns about plastic use. Carton packaging for bottled water is expected to get a boost from more niche, ethically sourced brands that are capturing the attention of environmentally conscious consumers. For instance, brands such as Flow Water, Boxed Water, and Just Water launched bottled water in carton formats, claiming a lower environmental impact than plastic bottles.
Furthering opportunity for PET growth, there has been a shift away from glass bottles due to the heavy weight and susceptibility to breakage. This trend is likely to continue from 2018 to 2023, with CAGR of 5.9% as brands such as Fairlife (a leading brand for milk in the USA) widely offers products in PET bottles.
Sustainability in packaging is still top of mind, however, as players innovate by introducing more sustainable pack types such as light weighted milk bottles and renewable resources such as green polyethylene, carton and board tubes.
To reduce the environmental impact of its packaging, Kroger introduced major changes to its classic milk jug design in early 2017. The new lightweight gallon jug comes with a rounded shape that uses 10% less plastic than previous models. Similarly, Lifeway began using green polyethylene, a material made of sugarcane, a renewable resource, for its Lifeway Organic product line as a shift away from standard polyethylene to more sustainable packaging.
Leading brands are also looking to board tubes in the salty snack category, which are easier for on-the-go consumption. Ritz cracker relaunched in a new box, foldup carton format to enhance shareability as well as the perception of being an ecofriendlier option.
Source: "Global Packaging Trends," Compiled by Euromonitor International for the Packaging Machinery Manufacturers Institute (PMMI). PMMI Members can download the full report for FREE, here. 
Australian Packaging & Processing Machinery Association (APPMA)
PMMI, The Association for Packaging and Processing Technologies
UCIMA, Italian Packaging Machinery Manufacturers Association
Symop, French Association for Manufacturing Technologies
Make plans to visit PACK EXPO East in Philadelphia, March 3-5, to see on-trend packaging machinery and materials.
Companies in this article