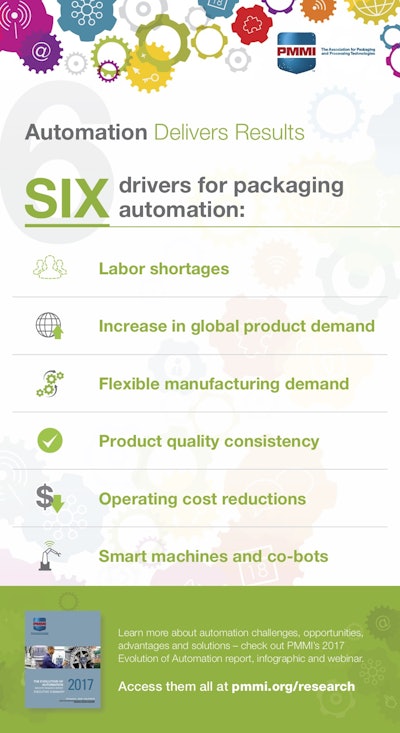 Automation is thriving in packaging environments. That's according to a study from PMMI Business Intelligence, The Evolution of Automation (download the executive summary), which reveals that a staggering nine out of 10 food processing and packaging companies are now using robots, and they predict that use will grow. Statistics from the Robotics Industry Assn. bear this out, noting that robot shipments reached new heights in the first quarter of 2018, with 10,730 robots valued at $507 million shipped to North American customers. This represents growth of 22% in units and 3% in dollars over the same period in 2017. Most surprising, the RIA notes that growth in non-automotive-related industries soared during Q1-2018, among them food/consumer goods at 64%.
Says RIA President Jeff Burnstein, "In the past when the automotive market retracted, the entire robotics industry would decrease along with it. The fact that we're seeing significant growth in non-automotive industries bodes well for the robotics industry as a whole. The automation industry continues to grow robustly as companies invest to increase productivity and quality while boosting competitiveness and also providing opportunities for workers."
For packaging companies, "lack of skilled labor/labor shortages" and "producing products with consistent quality" are two of the top-six drivers of plant floor automation named in PMMI's report. The other four include "global increase in product demand," "rising demand for flexible manufacturing," "overall operating cost reductions, and "smart machine technology and cobots."
In Packaging World's 2018 Robotics & Automation Report, Part I, we deliver four examples of Consumer Packaged Goods companies that have installed automation to address many of these issues. In the U.S., particularly, labor shortages and higher wages have prompted investments in automation.
Look to the September 2018 issue for Part II of the report, which will feature more examples of successful robot implementations.
Read case histories:
"Robotic case packer 'revolutionizes' production"
"Delicate, flaky croissants are gently filled and packed"
"Labor shortages drive adoption of robotic carton loading"