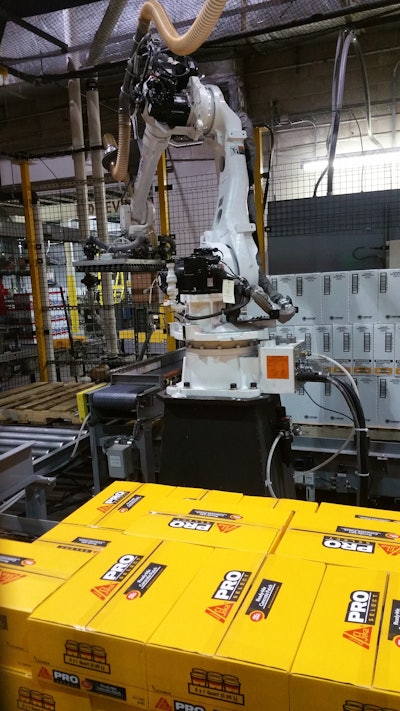 "We're working to become language-agnostic, since more people know how to program PLCs than know robotics languages," he says. "To create a technology platform for programming across the factory floor, it's essential that you use the languages people already know. It makes robots easier to integrate into a company's existing skillsets and production systems."
That was the rationale for the company's introduction of its MLX200 and more recent MLX300 software, which translates PLC commands into robotics languages. MLX300 offers all the integration capabilities previously available with MLX200, with added features and benefits. The language conversion tools consist of function blocks on a card that is inserted into a robotic controller. "You no longer need a black box, since everything is embedded in the robotic controller, which means you get more horsepower in a smaller package occupying less floor space," Elkins says.
Consider this use case. Pryor, OK-based Red Devil, Inc. is a privately-owned maker of more than 400 hand tools and chemical products, such as caulk, spackling, and sealants, for professional construction and home maintenance and improvement. Along with its brand-name products, Red Devil manufactures private-label products for some of America's largest hardware and home center chains. The company's manufacturing facility includes semi-automated production lines, which, until recently, terminated with a manual palletizing process.
S&R Robot Systems, LLC, a Yaskawa Motoman integrator, recommended the five-axis Motoman® MPL80 II robot with MLX200 controller platform to ease the replacement of manual palletizing.
The compact base and slim-arm design of the MPL80 II robot is ideally suited for minimum floor-space installation requirements. Its approximately 11-ft reach enables palletizing loads up to 95 in. tall. The robot is equipped with a pneumatic, multi-zone vacuum cup-style gripper assembly, comprising four pneumatic zones, for consistent product holding.
The MLX200 offers a PLC ladder-based programming approach. It enables control of robots and peripheral equipment within a single controls environment like Allen-Bradley CompactLogix PLC. No special programming language or controller is required. Its simplified hardware and controls architecture eliminates redundant interfaces.
So the LX200 language conversion software, now with its new MLX300 version available, enabled Red Devil to quickly automate its palletizing operations using a five-axis Motoman robot. Because the robot's software works in PLC ladder language in a single control environment with the PLC, no special programming or controller was required and redundant interfaces were eliminated. Red Devil employees are able to quickly change palletizing configurations for different products without help from a robotics programming expert or integrator.
Read the full stories on the Red Devil palletizer conversion below:
A wicked-good solution: Robotic palletizer doubles production at Red Devil, by Anne Marie Mohan, Packaging World
https://www.packworld.com/article/machinery/palletizing/robotic-palletizers/wicked-good-solution-robotic-palletizer-doubles
Controllers and Industrial PCs Get Smaller and Smarter, by Jeanne Schweder, Automation World: https://www.automationworld.com/article/technologies/plcs-pacs/controllers-and-industrial-pcs-get-smaller-and-smarter