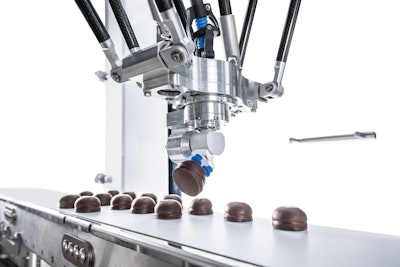 In 2019, a business intelligence report, "Robotics, Innovation 2 Implementation," from PMMI, the Association for Packaging and Processing Technologies, proclaimed, "Robotics is no longer just a tool, it is a force in the industry driving a revolution of change in manufacturing." This change has become increasingly vital for packagers, who are facing massive shifts in consumer buying behavior and changing market conditions—changes that in some cases have rapidly accelerated as a result of the COVID-19 pandemic.
Packagers grappling with mass customization, a shortage of labor (particularly skilled labor), more rigorous food safety standards, greater competition, and the quickening pace of e-commerce, are turning to robots to address these challenges. And robotics suppliers are responding, with innovations in hygienic features, vision systems, and ease of programming, as well as more palatable price points and greater flexibility.
While innovations overlap in terms of robot types, applications, and features, most of the drivers remain the same: less reliance on manual operations; greater productivity, efficiency, and flexibility; and reduced costs.
See all articles contained in Packaging World's 2020 Robotics Special Report:
Case Packer for Croutons Saves Dough on Corrugated: Specialty food products manufacturer installs a robotic case packer for croutons that can keep pace with the rest of the packaging line, while saving costs on shelf-ready packaging, as well.
Mass Customization Demands Flexibility: A growing omnichannel environment requires that CPGs have the flexibility to produce a range of package sizes and styles. Automation provides that capability.
Vision for the Future: New vision systems for robotics, including 2D and 3D machine vision, enable broader packaging applications.
Big Data is the New Currency: New software systems for robotics collect and analyze data to increase OEE, protect against cyberattacks, and predict failures.
Food-Safe Solutions Emerge: New opportunities for the direct and indirect handling of foods emerge as manufacturers begin developing robots for handling unpacked goods.
Addressing Labor Shortages can 'Help Feed the World': Robot manufacturer develops a system to alleviate the lack of labor in the nut industry that can sort nuts at the final stage of the conditioning process.
Cobots Continue to Advance: According to a PMMI robot report, cobots accounted for about 3% of all robot sales in North America in 2017; by 2025, that number is expected to increase to 34%.
E-Commerce Requires new Solutions: New robot technology addresses the specific needs of e-commerce packaging, including mixed pallet loads, labor challenges, and the use of a range of secondary packaging formats.
Vision Enables Tube Picking/Placing at 160/min: A new SCARA robotic cell developed for the collation of cosmetic tubes uses vision software and specially designed end-of-arm tooling.
Cobot-Placed Top Sheets Protect Frozen Foods: The installation of 12 robotic palletizers for frozen food products necessitates the addition of two cobot cap-sheet placers to keep the cases free from dust.
Making Sense of ANSI R15.06 and ANSI B155.1: To determine the right standards approach for your organization, it's helpful to understand how standards are structured, which responsibilities and requirements are associated with the standards, and ISO restrictions.
Companies in this article