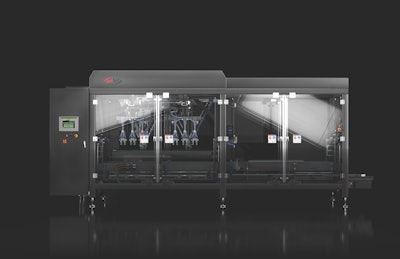 While Lancaster Colony Corp. may not be a household name, many of its specialty food products for the retail and foodservice markets most certainly are. Among them are products sold under their various brands, including Marzetti®, which offers salad dressings, veggie dips, fruit dips, and croutons; New York Bakery™ brand, with items such as Texas Toast frozen garlic toast and breadsticks and Texas Toast croutons; Sister Schubert's® frozen dinner rolls; and several other well-known brands.
According to Lisa Rathburn, Vice President of Engineering and Continuous Improvement for T. Marzetti Co., internal investment to support the growth of its existing business is the Westerville, Ohio-based company's first priority. The recent purchase in February 2020 of a robotic case packer for pouches of croutons at its Chatham Village, Mass., facility—one of 16 it operates in the U.S.—is a good example of this strategy. Not only did the addition of the equipment allow T. Marzetti to keep up with its upstream packaging operations, but it also enabled the company to switch to a new shelf-ready package (SRP) that saved on corrugated costs, as well.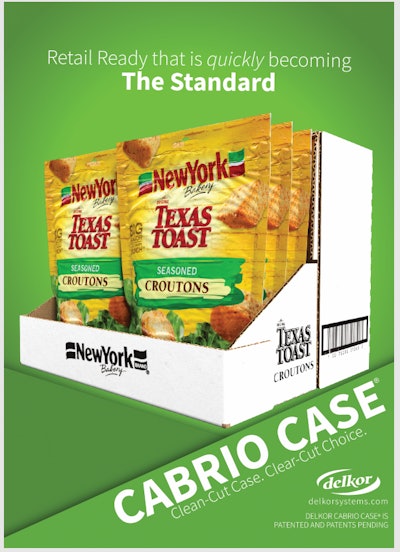 According to Zach Edwards, Project Engineer for T. Marzetti, a new Delkor case packer, the MSP-200, was a replacement for an existing machine. "The goal was to increase throughput by keeping up with the front end of the line," he says. "This case packer specifically was a machine that could handle the flexible packaging at the rates we desired."
Packaged on the line are 5-oz stand-up pouches, measuring 7 in. W x 9 in. H, with a 3-in. gusseted bottom, for croutons, primarily for its New York Bakery brand. While speed was one of the main requirements for the new machine, ease of changeover was the other—T. Marzetti runs six-, eight-, and 12-pack case configurations.
During operation of the machine, pouches enter the case packer and pass under a backlit vision system that analyzes the skew of the pouches. Dual vision-based M-2iA/3SL Fanuc delta robots using custom-designed suction cup end-of-arm tooling adjust for this skew and place the pouches on a pattern-building conveyor in perfect orientation. The conveyor then hands the rows and columns of products to a gantry robot, which loads as many as six SRPs at a time. The cases then exit the MSP-200 and enter a Capstone 550 case closer from Delkor, which seals them with hot melt glue.
Answering T. Marzetti's requirements, the MSP-200 features semi-automated changeover, which allows it to convert to different case configurations in less than 10 minutes. "Delkor also allows custom centerline adjustment within their HMI for simplified changeovers," Edwards adds. The system accommodates the front-of-line speed, operating at 150 pouches/min., comfortably below the case packer's engineered output of 180/min.
Victor Vieira, Plant Maintenance Manager for T. Marzetti, says the company was able to make the business case for replacing an existing machine with the new MSP-200 based on the savings in corrugated and other benefits resulting from the new case that runs on the line—Delkor's Cabrio Case® single-piece tray-hood SRP. The case has a tear-away hood with a variable-height back, offers single-, double-, or triple-facing options, and opens with a single motion, saving shelf-stocking time.
---
Read Packaging World's 2019 Robotics Special Report:
Part 1: Global CPGs embrace robotics
Part 2: Packagers realize ROI with robotics
---
With the Cabrio Case, product is loaded and shipped flat, which according to Dan Altman, VP Sales & Marketing for Delkor Systems Inc., provides three benefits. First, he says, it's far easier to automate pouch loading when you don't have to upright the pouches before loading them into a case, as they're usually moving down a conveyor lying flat. Second, by loading flat, the product is distributed horizontally and doesn't bunch up in the bottom of the pouch, eliminating product damage and/or clumping at the bottom of the pouch. And third, stacking the pouches horizontally saves space in the case, allowing the depth of the case to be reduced, thereby reducing the amount of corrugated material.
On average, the Cabrio Case reduces corrugated usage by 30%, particularly when compared to two-piece tray-hood packages. Says Altman, "The Cabrio case almost always saves money versus tear-away RSCs, but it saves significant dollars when compared to two-piece SRPs. Not only is there much more corrugated [with a two-piece SRP], but end users are also required to stock two SKUs of products, which is costly. A single-piece blank is by far the lowest-cost solution."
Concludes Edwards, "The project was justified with corrugated savings and transportation savings—more efficient case sizing allowed us to save material and put more product on a pallet. There was also a small amount of labor savings."
Read Packaging World's full 2020 Robotics Special Report: Robots Drive the Manufacturing Revolution
Companies in this article