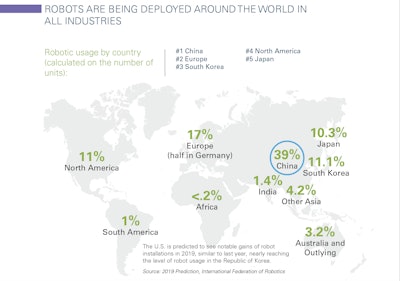 Depending upon the level of automation in your company's packaging operations, you may or may not be surprised to hear that in 2019, the number of companies using robotics will reach 90%. In fact, "in the next five years, it is likely that nearly all manufacturers will be operating robotics somewhere on the plant floor." That's according to a new report from PMMI Business Intelligence, Robotics 2019: Innovation 2 Implementation, which notes, "Robotics is no longer just a tool, it is a force in the industry driving a revolution of change in manufacturing."
And this "revolution of change" is happening worldwide. According to Quarate Business Intelligence, the global packaging robot market was estimated at $1.42 billion in 2015 and is forecast to grow significantly, with a CAGR of more than 13% through 2025. China leads in robot usage, at 36%; Europe is second, with 17%—half of which are in Germany; and South Korea and the U.S. vie for third place, at 11.1% and 11%, respectively.
In Part I of Packaging World's annual Robotics Special Report, we look at three European Consumer Packaged Goods companies that have employed robotics in the last several years. These include Polish confectioner Mieszko, Italian cookie company Cabrioni Biscotti srl, and Nestle Suisse, which produces tea capsules in Orbe, Switzerland. Not only do these companies offer insight into Europe's use of packaging robots, but they also represent the top applications for robots, which are—according to the PMMI report—transport packaging at 73%, secondary packaging at 70%, and primary packaging, at 53%.
Read them here:
All the right (robotic) moves for fine pralines