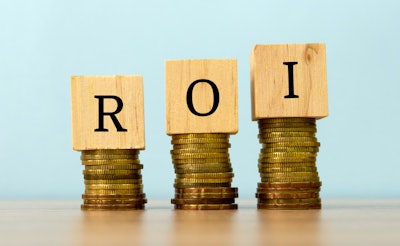 For packaging operations both large and small, making the decision to replace semi-automated or manual processes with robotics can be a difficult one, given the significant capital outlay involved. In fact, according to a new report from PMMI Business Intelligence, Robotics 2019: Innovation 2 Implementation, one of the top five obstacles hindering a faster adoption rate for robotics is cost justification and investment.
As Abhibjit Choudhury, Project Engineer – Filling and Packaging at Campbell Soup—one of six packagers interviewed for Part II of Packaging World's Special Report on Robotics—shares, in replacing the company's mechanical depalletizer with a robotic one, it was looking at investing a substantially more than it would have for a traditional palletizer. "As an engineer, you have to make a choice as to whether an investment is really needed," he says.
In its report, PMMI found there are six variables that go into calculating ROI: reduced labor costs, increased throughput, total cost of ownership, improved quality/reduced waste, decreased worker injuries, and measurable uptime.
In the following article, Campbell Soup, along with Michigan Sugar, BASF, Columbia Crest, Choceňská mlékárna, and Jakov Dulcich & Sons, share what operational challenges drove them to invest in robotics for their packaging lines and how those investments have paid off.
Robotic partition inserter breaks bottleneck for winery
Washington state's Columbia Crest winery replaces an outdated mechanical partition inserter with a robotic one that more than doubles the speed of the bottling line.
Robotic palletizer doubles output for BASF
Sparks, GA facility replaces semi-automated palletizing process with a robotic palletizing cell that increases the case-per-minute speed of 6 to 8/min up to 15/min.
Robots enable value-added packaging for sugar
Michigan Sugar Company adds robotic palletizing for bundled trays and display pallets that offer flexibility and high-efficiency picking.
End-of-line automation handles dairy tubs with care
Six robots on a new packaging line at Czech dairy Choceňská mlékárna quickly and gently case-pack and palletize tubs of product at 20,000/hr.
Robotic depalletizing increases line uptime from 54% to 80% at Campbell Soup
Replacing a low-level depalletizer with a robotic one for loading glass jars onto an alfredo sauce line results in significant line uptime and reduced labor costs at Campbell Soup.
Grape packer comes in from the fields, automates packaging
California grape grower breaks with tradition, bringing grape packing in-house and automating the process with semi-automated packing lines and robotic depalletizing and palletizing.
Thinking about installing robots in your packaging plant but don't know where to start? The packagers featured in the report share advice based on their experiences maneuvering the brave new world of robotic automation.