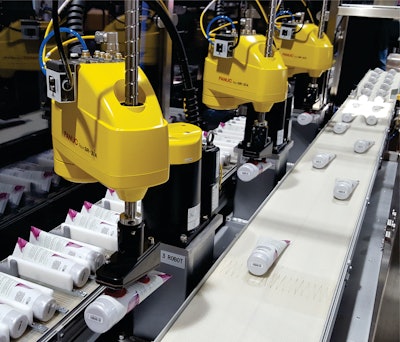 A recent ESS Technologies, Inc. case-packing project involved the integration of three SR-3iA Fanuc SCARA robots, equipped with Fanuc's iRVision and ESS-designed end-of-arm tooling (EOAT) to collate more than 160 cosmetic tubes/min for feeding to a case packer. Named the TaskMate Robotic Systems® high-speed SCARA robotic collation cell, the system can also handle pharmaceuticals, diagnostics, consumer goods, and medical devices.
ESS engineers programmed the three robots using Fanuc's iRPickTool software, which it explains simplifies the setup of picking-and-packing conveyor tracking applications. iRPickTool supports camera tracking applications using integrated iRVision software and also provides a means of setup so that robots can share work using multiple load-balancing methods. The software allows the robots to pick from fixed stations, standard conveyors, and indexing conveyors.
---
Read related articles from Packaging World:
Big Packaging Line in a Small Footprint? No Problem if it Handles a Dozen Formats
Wet Wipes Case Packed via Robots at 160/min
Pick-and-Place Robots, Flow Wrapper, Fuel High-Volume Bakery
All the right (robotic) moves for fine pralines
---
In the tube collation application, a camera above the flat-belt conveyor provides the robots with the location of the tubes as they enter the robotic cell. ESS used the software to program the three robots to pick tubes from a moving flat-belt conveyor, correctly orient the tubes, and progressively load the case packer's infeed indexing timing belt conveyor. Tubes not picked by the first or second robot are picked by the third, allowing the infeed system to orient and place over 160 tubes/min.
The indexing timing belt conveyor flows to a case-pack pattern-forming station where a Fanuc LR200iD six-axis SCARA robot with ESS-designed EOAT picks tubes and places them in a staging tray in an 18- or 36-ct case. Staged tubes are then case packed, including robotic partition insertion, using ESS's Model V30 case packer. Shares ESS, the tube collation system allowed the manufacturer to pack up to 8.5 18-ct cases/min.
Read Packaging World's full 2020 Robotics Special Report: Robots Drive the Manufacturing Revolution
Download the Playbook
For more information on trends in robotics, download Packaging World's new Packaging Robotics Playbook, 2020 Edition.
Companies in this article