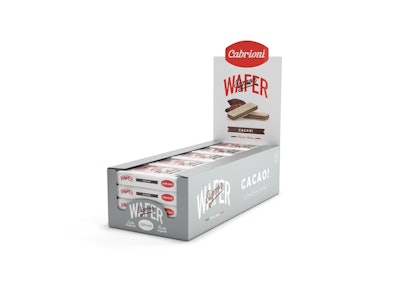 At renowned Italian cookie company Cabrioni Biscotti srl, as its tagline suggests, "Ingredients make the difference." Located in the hills of Emilia Romagna in Northern Italy, where signature components of Italian cuisine grow in great abundance and quality, Cabrioni is committed to creating products of excellence by using the highest-quality ingredients. These include fresh-laid eggs, fresh cream butter, and the finest varieties of Italian flour, malt, and honey. In addition, its cookies and wafers contain no artificial flavors, colors, preservatives, or dehydrated ingredients.
To remain competitive in the market, Cabrioni's strategy since its founding in 1973 has been to invest heavily not only in its ingredients, but also in its operations. "We believe that investments are the best way to ensure the development of the company," explains company CEO Stefano Cabrioni. "Over the years, we have invested heavily in infrastructure and automation, selecting highly qualified suppliers with whom we have established strategic partnerships. This approach has allowed usto obtaina positive return on investment, both economic and qualitative, in a relatively short time."
Since 2005, the company has gradually expanded its production area, which today extendsover roughly 49,000 sq ft. Investments in infrastructure have been coupled with the automation of a number of its production lines. Most recently, in 2018, Cabrioni replaced the semi-automatic end-of-line operations for two production lines producing flow-wrapped wafers with a completely automated, robotic line from Cama. According to Cabrioni, the new line's short ROI was justified by increased production efficiency and significant labor savings.
For this application, the company was looking for a system that could provide complete automation of carton and case packing of 20 different package formats at speeds greater than its existing semi-automated process could achieve. According to Cabrioni, the semi-automated line could handle only 50% of the company's oven production.
Having already installed five Cama machines on other production lines, Cabrioni was confident in the supplier's proposed solution for handling the packaged wafer. Says company founder Angelo Cabrioni, "Even at production levels, our philosophy is to invest in quality, high-tech machinery to optimize the packaging process and minimize waste andmachine downtime for repairs. We appreciated the solution proposed by Cama for the simplicity of the process and the reliability of the system that guarantees an efficiency rate over 95 percent."
The new Cama packaging line consists of a model IF318 robotic monoblock system for carton forming, loading, and closing and a model FW748 wraparound case packer.
The IF318 robotic cartoner is equipped with three RB two-axis robots—one at each station—and iTrak movers driven by linear servo technology from Rockwell Automation that carry the cartons on a racetrack-style rail. Each station—carton forming, carton loading, and carton closing—works independently of the other two.
The packaging process begins with the robotic forming of four three-flap cartons at one time from flat blanks, some of which are constructed with a transparent window. The robot is equipped with a carriage-style pick-up head equipped with vacuum cups. After it has formed the cartons, the robot places them on iTrak movers—one carton per mover. From there, the cartons are conveyed on the movers to a buffer zone positioned before the carton-loading station, where they stop and wait for the four cartons ahead of them on the line to advance out of the loading station.
Meanwhile, at the carton-loading station, a multiple-pocket infeed system brings flow-wrapped wafers into position so that the monoblock's second robot—another RB two-axis robot with carriage-style EOAT—can pick and place five packs of flow-wrapped wafers into each carton, four cartons at a time. After being loaded, the cartons are conveyed to a buffer zone before the last station—carton closing. When they leave the buffer zone, the cartons are conveyed past Nordson hot-melt glue nozzles and then to the closing station. Here, the third RB two-axis robot comes down onto four cartons at once, pressing them closed, and then lifts the sealed cartons from their iTrack movers onto a discharge conveyor.
The IF 318 features a pitchless carton indexing system, making carton-size changeover a fast and easy process. "In the cartoner, the changeover procedure is performed by the HMI program and also by replacing some mechanical items according to the different blank sizes," explains Cabrioni.
After the cartons are discharged from the monoblock, they are conveyed to the FW748 case packer, where they are loaded into a preformed, wraparound display case or RSC shipper, in various configurations. After the cartons are loaded, they are closed and sealed. Before discharge, the cases are inspected by a photocell device that can detect non-glued flaps. Defective cases are conveyed onto a free-roller conveyor at the machine outfeed, while properly sealed cases are sent to a palletizer. Case-size changeovers are performed entirely through the HMI.
As Alessandro Rocca, Sales Engineering Director for Cama, explains, the robotic monoblock systemand the wraparound case packer are part of the company's Break-Through Generation (BTG) range, which incorporates the latest Cama technological innovations. These include higher sanitary standards, improved, integrated cable-system routing (ICR), a flexible and compact configuration, user-friendly controls, energy-saving engineering, and easy recognition of format-change equipment. In addition, the electrical cabinets have been integratedinto the machine structure to gain space, while an easy-entry, open-profile solution guarantees safe and easy access for maintenance and cleaning. The magazine has been positioned 800-mm high forimproved operator ergonomics.
With the new equipment, Cabrioni can now produce 330 cartons/min, 15 cases/min, with 22 cartons/case.
Watch a video of the IF318 here.
Read all of Part I of the Robotics Special Report, "Global CPGs embrace robotics," here.
Companies in this article
Videos from Cama North America
Videos from Nordson Corporation