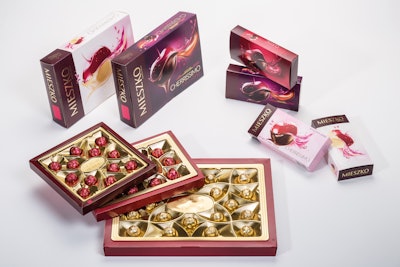 Backed by 150 years of tradition, Polish confectioner Mieszko specializes in the creation of premium praline products filled with ingredients such as fresh fruit, crunchy nuts, rich liqueurs, and fine spirits. Its delectable sweets are so popular among Polish chocolate lovers that it sells more than 1.5 million boxes of its Amoretta cream-filled pralines each year alone, manufactured in its two plants in Ratibor, near Katowice, in southern Poland.
One of its most popular products is its Cherrissimo pralines, made from dark chocolate, cherries, dry alcohol, andfruit juice. The hemisphere-shaped chocolates are wrapped in colorful foil and are offered in formats that range from small gift packages to large assortment boxes. In order to meet increasing demand for this praline variety, Mieszko decided to automate the presorting and packaging process for Cherrissimo.
Among the main requirements for the packaging machinery were that it handle the delicate chocolate products extremely gently and that it accommodate more than 20 different packaging formats. Designing a 500-carton/min system equipped with six sub-machines, each one with its own robot, and a unique vibration unit, Gerhard Schubert GmbH was able to meet Mieszko's needs.
At the first sub-machine, the plastic trays used to hold the assorted chocolates are picked with a robot from a magazine and are placed onto Schubert's proprietary Transmodul single-axis, rail-based transport system. This station is followed by three TLM sub-machines with integrated TLM-F4 four-axis pick-and-place robots that fill the trays with product. Each one is supplied with product from three separate infeeds, which make up the custom-designed presorting vibration system.
Explains Michael Voelskow, Sales Account Manager at Schubert, "The first infeed conveyor delivers the wrapped chocolates unsorted in bulk. When transferring to a second conveyor, the products are no longer positioned one on top of the other, but next to each other in a single layer. The third conveyor, which follows immediately after, moves two steps forward and one step backward in an abrupt motion." This motion is so perfectly balanced that any pralines lying on their round side are jolted onto their flat underside, while those products that are already correctly orientated remain that way.
After being correctly positioned, the pralines pass across a spreading belt for separation. A reflected-light scanner—part of an image recognition system developed by Schubert for packaging tasks involving large product ranges—detects the position of the products. This not only allows the position of the products to be calculated, but also the quality to be assessed: Only perfect pralines are picked up by the robots and placed into the plastic trays provided.
In order to handle the chocolates without damaging them, the F4 robots use soft, half-shell-shaped grippers adapted to the shape of the hemispherical products that use vacuum to gently transfer the pralines from the belt to the plastic trays.
In the next sub-machine, two F2 two-axis robots place the fully loaded trays into pre-erected, double-walled boxes and, depending on the format, place candy pads on the trays to protect the products. The line can also handle tray-style cartons, which are kept open by way of a custom-designed spreading tool that holds the lid open when the plastic trays are being inserted.
In addition to wrapped pralines, the system can also package unwrapped chocolates by pushing them from the tray onto the infeed belts without using the vibration unit. Tool-free changeovers between the various packaging configurations take just 15 to 20 minutes.
In the future, Mieszko plans to create other packaging variants, such as trays for very small batches that are inserted into the chain by hand. Says Tomasz Stiebler, Project Manager at Mieszko, "The system's amazing flexibility is ideal for us. We can process more than 20 different packaging combinations. I'm also enthusiastic about the tool-free conversion between formats."
With the new Schubert praline packaging line, Mieszko has greatly expanded the complex packaging process for Cherrissimo pralines and is now in a position to significantly increase its production.
Read all of Part I of the Robotics Special Report, "Global CPGs embrace robotics," here.
Companies in this article