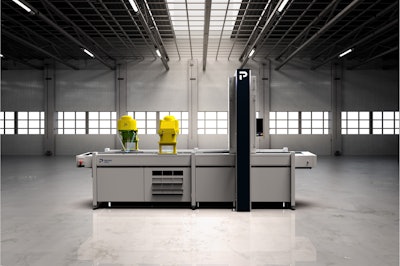 A 2019 business intelligence report on robotics from PMMI, the Association for Packaging and Processing Technologies, cited a lack of qualified and available labor in the workforce and the need to increase throughput as the key trends driving the expansion of robots. Most recently, amidst the COVID-19 pandemic, robots have come to the fore as a way for manufacturers to more safely keep workers socially distanced on the factory floor and maintain operations.
---
Read related articles from Packaging World:
COVID-19 Brings Increased Visibility to the Role of Robotics
Cobots Automate Assembly & Bagging of PopSockets
Wet Wipes Case Packed via Robots at 160/min
Tomato Grower Automates Palletizer to Stack Higher, Faster
All the right (robotic) moves for fine pralines

---
According to Premier Tech, one industry particularly suffering from a shortage of labor is agriculture—in particular, nut producers. To address this problem, as well as mitigate the issue of food distribution and availability in order to "help feed the world," it has developed the PSR robotic solution to speed the sorting of nuts at the final stage of the conditioning process.
 Explains the company, the equipment's components are all integrated within a compact structure to enable shorter start-up times. The system has been successfully tested with almonds and pecans, and trials with other types of nuts are in the pipeline. "Our goal is to help the nut industry with the labor shortage they are facing for the tedious and difficult job that is nut sorting," explains Curt Davis, Sales Director for the agriculture market at Premier Tech. "The dual M1 Fanuc robots have been able to sort up to 3,000 pounds of almonds per hour in our lab, and we are very excited to test it under real conditions to see how it adapts."
Read Packaging World's full 2020 Robotics Special Report: Robots Drive the Manufacturing Revolution

Companies in this article