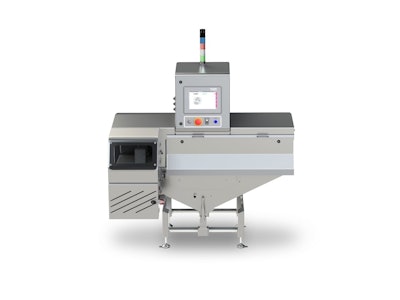 Because product safety is a top priority for manufacturers producing and packaging food, Eagle Product Inspection is evolving its x-ray inspection technology with new functionality to meet stringent regulatory compliance, while increasing machine reliability and manageability.
At PACK EXPO International, Eagle Product Inspection (booth S-1721), introduced the EPX100, the company's next-generation x-ray system for packaged goods. Safe, simple and "smart," the EPX100 is designed for small- to medium-sized manufacturers, contract packagers, seasonal operators and global companies looking to standardize on equipment. The system inspects products in cartons, boxes, plastic containers and pouches, among other formats.
Key to the x-ray inspection system is its ability to provides superior detection and automatic rejection of physical contaminants, including glass shards, metal fragments, mineral stone, calcified bone, and some plastic and rubber compounds. Eagle's Simultaneous Tasking (SimulTask) image processing software provides additional inspection routines, including missing components, broken items, count, shape and position placement, which delivers greater visibility into the process—along with more statistical data, the company said.
For example, the Eagle Repository tool enables on-screen review of production statistics, as well as rejected and saved images. The reports can be transferred to a PC or network for viewing using a standard Internet browser. And, with Eagle Remote Access, the Eagle technical support team can perform set-up, machine diagnostics and remote correction, which maximizes machine uptime while maintaining a low cost of ownership.
Built in a compact footprint to consume less energy, the EXP100 also incorporates machine safety as part of its overall product safety assurance, with safe mechanical design and guarding built into the machine.
The EPX100 is suitable for a broad range of product applications across the bakery, confectionery, produce, ready meal, snack food, and personal care industries, the company said. The new functionality improves product safety and compliance, and allows manufacturers to streamline their systems for greater consistency and reliability.